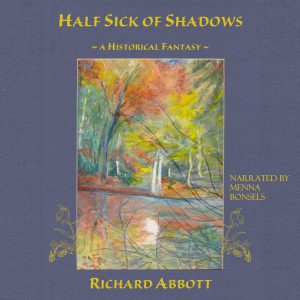 Good news awaited me first thing this morning – an email saying that the audio version of Half Sick of Shadows has been approved and is now being distributed to Audible, Amazon and iTunes (link available soon).
The free sample is here:
and is also available in the usual way at the abovementioned sites.
Once again, vocal credits are due to Menna Bonsels – for a real treat, listen to the way she steadily alters The Lady's voice as the penultimate chapter Metamorph unfolds.
For those who would like the Audible version but do not have an account, one of the perks of setting up a free one-month trial is that you get your first title completely free (and then one credit per month after that). If you're also an Amazon Prime member, you get three free months and three free titles! Why not take out the free trial and use it to listen to Half Sick of Shadows! Great for you, and also great for author and narrator both!
Links:
Free sample: http://datascenesdev.com/Alexa/voicefiles/HalfSickOfShadowsAudioBookSample.mp3
Audible: https://www.audible.co.uk/pd/Fiction/Half-Sick-of-Shadows-Audiobook/B07D9S3JTL
Amazon: https://www.amazon.co.uk/Half-Sick-of-Shadows/dp/B07D9TQF3P/
iTunes: Available soon