Some review comments

Breakfast with Pandora: "…So here he is, Mit, a dashing yet ethical nerd, threading his way through entanglements virtual, emotional, and both at the same time, while hunting down the shadowy anarchist group "Robin's Rebels" and sending down versions of new software written on the fly to his superiors, with the obligatory "interim release note."…"
Amazon.com: "… If you are looking for good science, believable personalities and suspense coupled with an immensely satisfying read then this book is for you!…"

Amazon.com

Amazon.co.uk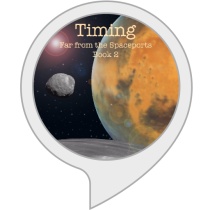 Enable the Alexa skill for Timing on the UK or US Alexa stores – listen to extracts and hear about the book directly.
Available in Kindle on Amazon.co.uk, Amazon.com, Amazon.in, and other global Amazon stores – search by name. Paperback version available on Amazon.co.uk, Amazon.com or Amazon.in, or at the CreateSpace store: apply special code SHLSL5BY at the checkout for a discount. The Book Depository offer free world-wide delivery in paperback form as another option.
Vote on The People's Book Awards.
Listed on Books Go Social and Wattpad.
Timing, the sequel to Far from the Spaceports is a near-future science fiction novel. Mitnash Thakur and his virtual partner Slate, tackle hi-tech financial crime in deep space.
Samples (free downloads):
Timing – Sample – Kindle mobi
Timing – Sample – epub
Or read a sample on Issuu…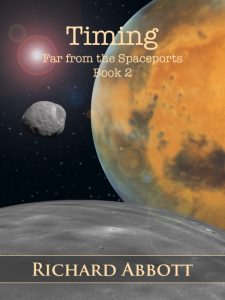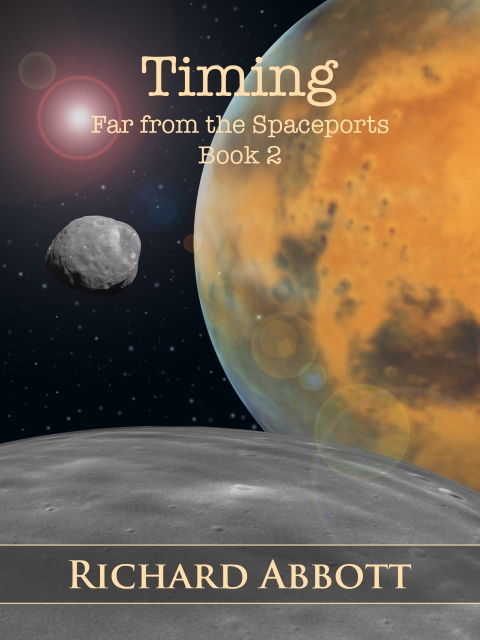 When quick wits and loyalty are put to the test
Mitnash and his AI companion Slate, coders and investigators of interplanetary fraud, are at work again in Timing, the sequel to Far from the Spaceports.
This time their travels take them from Jupiter to Mars, chasing a small-scale scam which seems a waste of their time. Then the case escalates dramatically into threats and extortion. Robin's Rebels, a new player in the game, is determined to bring down the financial world, and Slate's fellow AIs are the targets. Will Slate be the next victim?
The clues lead them back to the asteroid belt, and to their friends on the Scilly Isles. The next attack will be here, and Mitnash and Slate must put themselves in the line of fire. To solve the case, they need to team up with an old adversary – the only person this far from Earth who has the necessary skills to help them. But can they trust somebody who keeps their own agenda so well hidden?
Listen to author readings:
Publisher: Matteh Publications (October 14th 2016)
ISBN: 978-0993-1684-6-8 (soft cover)
ISBN: 978-0993-1684-7-5 (ebook – kindle)
See http://www.kephrath.com for more options.
Cover image © copyright by permission Ian Grainger www.iangrainger.co.uk.
Original Matteh Publications logo drawn by Jackie Morgan.
Planet and asteroid surface surface textures on the book cover and promotional material make use of images made available in the public domain by NASA, and are hereby acknowledged. NASA does not endorse the content of this book. At the time of publication, the specific images used may be found at:
http://www.nasa.gov/feature/goddard/2016/new-hubble-portrait-of-mars,
http://photojournal.jpl.nasa.gov/catalog/PIA10367 and
http://photojournal.jpl.nasa.gov/catalog/PIA20825.