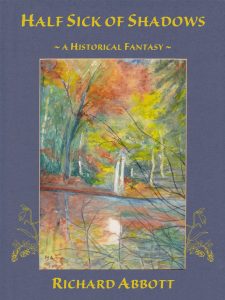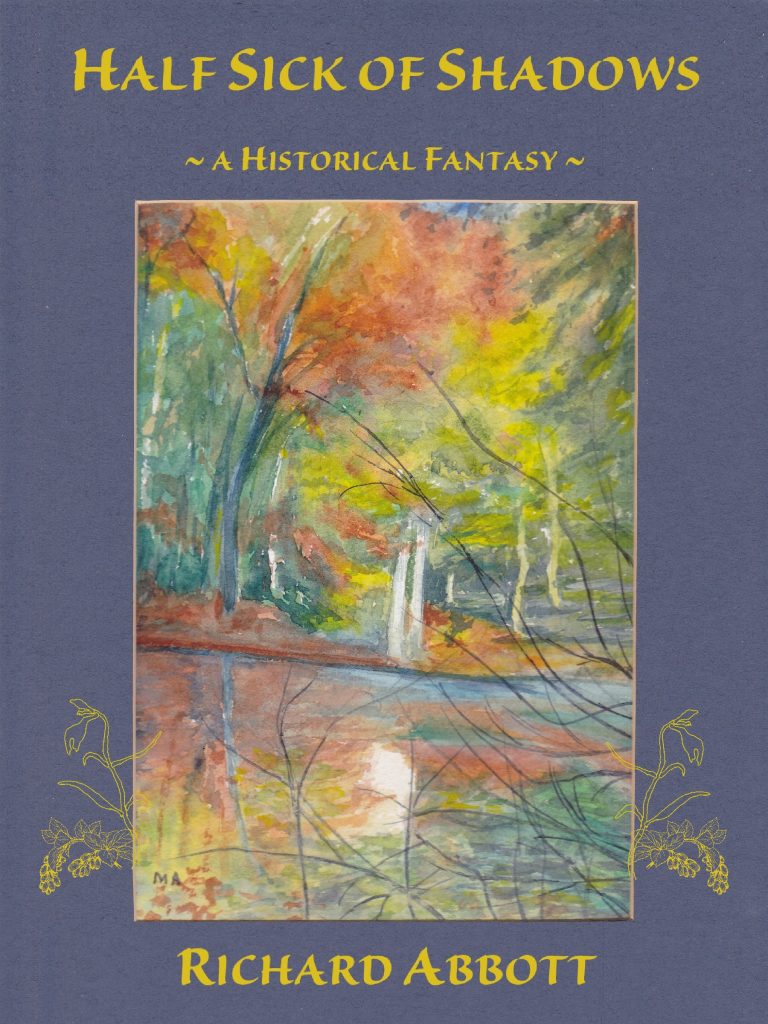 I was going to do part two of Left Behind by Events, but when this review came out on the Before the Second Sleep blog, plans changed. You will guess when you read it that I was very happy about this – not just the review itself, but the way it brought out comparisons and associated thoughts. I'm going to quote extracts from the review here… for the full thing you'll have to follow the link.
And if you do, there's a bonus – leave a comment at the linked blog (not this one) and your name will go into a hat for a free giveaway copy of the book.
---
Contemporary author Richard Abbott takes this one step further by incorporating his own already popular literary bents—historical and science fiction—into a highly accessible re-interpretation of Tennyson's masterpiece, itself based on the life of Elaine of Astolat, a tragic figure within the Arthurian catalogue. Written in prose and sectioned off a few more times than "The Lady of Shalott," Abbott's Half Sick of Shadows takes us into a world of beauty and cruelty, loving and longing, a world of isolation in which the Lady yearns for her own voice and must choose which sacrifice to perform.

…

The metamorphosis of this re-telling gifts readers the feeling that they are receiving the Lady's story for the very first time. For those familiar with Abbott's previous work, the historical may be an expected element, but the speculative angle is a definitive bonus, and done with a subtly that enhances rather than reduces the Arthurian and historical within Tennyson's version. There is a machination about the mirror, in its gathering of data as the Lady sleeps between instars, or growth states, and during her acquisition of knowledge, and periodically we hear a word or phrase (e.g. gibbous) that injects the story with a small flavor of the author's previous forays into a galactical colony.

…

For me, this speaks volumes about Abbott's ability to transition from genre to genre: he clearly is comfortable writing in a variety, and with Half Sick of Shadows we see this taken to another level as he combines it into one: history, mythology, fantasy and speculative. Perhaps some might even add mystery and/or romance, for the Lady catches a glimpse of Lancelot in her mirror, and from then on everything she acts upon, whether in pragmatic caution or foolish abandon, is in response to the spell she knows she is under, a magic that will destroy her should she try to look directly at the world outside. The manner in which Abbott expands upon the Lady's life and events within, simultaneously breaking ground while remaining true to Tennyson as he retains the spiritual within the legends of Camelot, is inspiring and captivating. The imagery and descriptive language is economic yet rich.

…

Whether re-visiting or new to the legend, readers will cherish Abbott's novella, an original and enthralling re-telling suitable to current sensibilities, with a blend of Victorian sensory and critical, and the Modernist aim to further pique cultural curiosity. It is a merger in which Abbott splendidly succeeds.
---
Once again: the link to the full review is https://beforethesecondsleep.wordpress.com/2017/10/09/book-review-half-sick-of-shadows-with-giveaway/. Like it says, there's a giveaway copy to be won – follow that link and leave a comment to be in with a chance.