Time to get back to regular blogging again, and I thought I would start with a recap of a recent review of mine, for The Last Phase Shift, by David Frauenfelder. This is the third in a particular series of books, set in and around The Continent, a mysterious land in the Indian Ocean which – among other things – has the curious feature of intermittently phasing out of sync with our world. Until this book, we have not really known where Borschland and the other cluster of nearby countries go to during the phase shift: this book explores that, as well as a number of other fascinating issues.
The full review is at Amazon or Goodreads.
How to describe this book? It's not easy, and a random collection of facts may not be the best way to introduce you to the charms and delights of Borschland. There are intelligent beasts, including the superb bears who are beginning to feature increasingly in their own stories. It might be called steampunk. It could be classified as a sports story, specifically ice hockey. Weirdly (for those who know me), this book got me quite interested in said sport, to the extent that I started becoming familiar with the jargon, and even watched some YouTube videos showing some of the most striking and skilled moves in the game… called dangles, for the uninitiated (see below for a sample). And it's also a story telling how the older generation of central characters – the ones who drove the storyline of the first two books – are starting to take a back seat and let the younger generation have their say. But as mentioned above, none of these individual facts can really do justice to the wide-ranging wealth of The Last Phase Shift.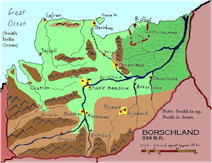 I have read the first two books, but am reasonably convinced that this one can be read in isolation. There are enough snippets of contextual information, woven into the tale very neatly, that you can find out anything you need to know to make sense of it.
Be warned… you might easily find yourself being drawn into the bizarre charm of Borschland, and starting to crave more stories set in and around The Continent.
The YouTube video can be found at https://www.youtube.com/watch?v=9MJyWhkK9vw…