Audiobook version:
The Audiobook version of Half Sick of Shadows is now available… here is a sample…
The full version is now available at:
iTunes or equivalent international links
Some review comments

IndieBRAG:

IndieBRAG Medallion

We are proud to announce that HALF SICK OF SHADOWS by Richard Abbott is a B.R.A.G. Medallion Honoree.

Discovered Diamond

Discovering Diamonds: "…one of the most utterly unique re-imaginings of the tale that I have ever encountered…

Breakfast with Pandora: "…Half Sick of Shadows is an intricate, delicate story about a Lady who grows through time into something new, both physically and mentally, and how interaction with those she encounters affects that process. But it's also a wonderfully imaginative take on how we might be– or have been– in touch with others outside our ken…"
Hoover Book Reviews: "…the progression of The Lady through the various stages of her existence, and the descriptions of the eras in which she awakes are masterfully told by the author…"
Sruti's BookBlog: "…The Lady has begun to grow, but the form, which she finds herself drawing from, is too thin and exasperating. She slept again, and this time she awoke yet again. Times are passing and changing. She wishes for people to value her but they seem to be changing and missing…"
The Review: "…a historical fantasy with some science fiction elements and healthy dose of mystery, it is absolutely unique and a literary sensation. Beautifully written, with an interesting storyline and wonderful imagery, it is in a realm of its own…"
Amazon.com review: "… this book was thoroughly engaging. The language was descriptive and lush without becoming overwrought or melodramatic, the imagery is lovely right from the very first paragraph, and the overall story of the Lady of Shalott is entirely original…"

Amazon.com

Amazon.co.uk
Half Sick of Shadows, a new novella set at various times in Britain's history, retells the Arthurian legend of the Lady of Shalott.
Available now in Kindle or paperback format at Amazon.co.uk, Amazon.com, Amazon.in, and other global Amazon stores – search by name.
Enable the Alexa skill for Half Sick of Shadows on the UK or US Alexa stores – listen to extracts and hear about the book directly.
Play audio extract:
Who is The Lady?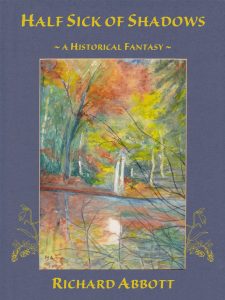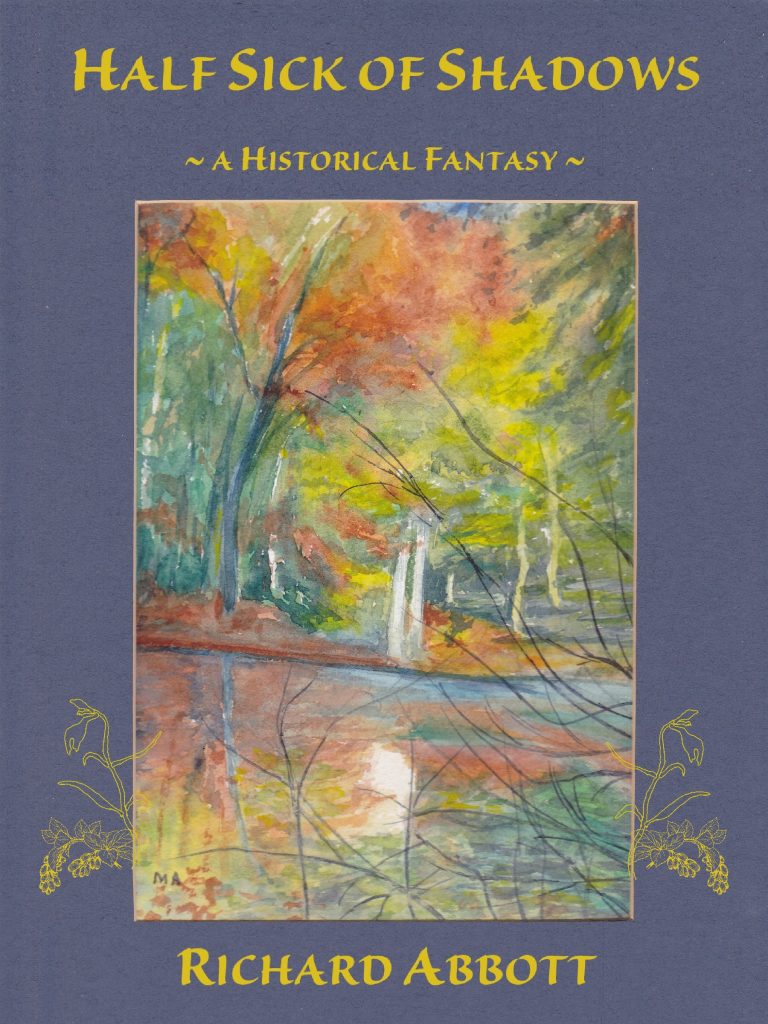 In ancient Britain, a Lady is living in a stone-walled house on an island in the middle of a river. So far as the people know, she
has always been there. They sense her power, they hear her singing, but they never meet her.
At first her life is idyllic. She wakes, she watches, she wanders in her garden, she weaves a complex web of what she sees, and she
sleeps again. But as she grows, this pattern becomes narrow and frustrating. She longs to meet those who cherish her, but she cannot.
The scenes beyond the walls of her home are different every time she wakes, and everyone she encounters is lost,
swallowed up by the past.
But when she finds the courage to break the cycle, there is no going back. Can she bear the cost of finding freedom? And what will
her people do, when they finally come face to face with a lady of legend who is not at all what they have imagined?
A retelling – and metamorphosis – of Tennyson's Lady of Shalott.
---
Available in Kindle on Amazon.co.uk, Amazon.com, Amazon.in, and other global Amazon stores – search by name. Paperback version available on Amazon.co.uk, Amazon.com or Amazon.in, or at the CreateSpace store: apply special code SHLSL5BY at the checkout for a discount. The Book Depository offer free world-wide delivery in paperback form as another option.
Vote on The People's Book Awards.
Listed on Books Go Social and Wattpad.
Samples (free downloads) available:
Half Sick of Shadows – Sample – Kindle mobi
Half Sick of Shadows – Sample – epub
Or read a sample on Issuu…
Publisher: Matteh Publications (May 1st 2017)
ISBN: 978-0993-1684-9-9 (soft cover)
ISBN: 978-0993-1684-8-2 (ebook – kindle)
See http://www.kephrath.com for more options.
Cover image © copyright by permission Mary Abbott.
Original Matteh Publications logo drawn by Jackie Morgan.