I have been in Cumbria the last few days – England's Lake District – and have been surrounded by history. Of course there are the hills, first established up to about 500 million years ago and steadily being reshaped by nature's forces since then. Then there are the various lakes and tarns, mostly the result of glaciation on a timescale of about 11,000 to 100,000 years ago. And of course the various signs of humanity's use of the landscape, going back a few thousand years.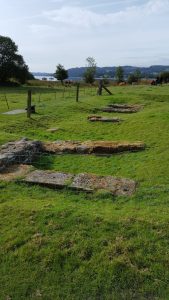 But also there are specific signs of human activity, and I have been happily looking at some of these. Just outside Ambleside, at the northern end of Windermere, are some rather well displayed remnants of a Roman fort. It's name is not known with certainty, but the most likely claim is Galava, identified in later Roman records in this vicinity. The earliest fort held a unit of about 200 soldiers, and was upgraded over time to have about 500. As well as barracks and all the usual paraphernalia of a Roman fort, it also boasted a jetty onto the lakeside at which, one presumes, cargo and passengers arrived and departed. From here, roads led off west towards the splendid fort in the Hardknott Pass (which I haven't yet visited) and also up the eastern side of Ullswater towards Penrith, Carlisle, and Hadrian's Wall.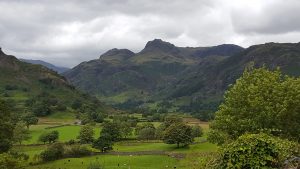 But as well as that there are considerably older signs of human habitation, and I have to admit that these excite me rather more than the Roman ones. Back in Neolithic times, there was a stone axe "factory" up amongst the Langdale Pikes. These tower impressively over the Langdale Valley, and are easily identified from many miles away as you approach. If you come as tourist, your first view of them might well be from Windermere railway station, but actually they can be spotted from a few places rather further afield. Axes from Langdale have been found all across Britain and beyond, and were clearly highly prized items in their day.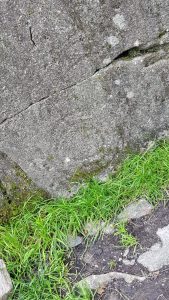 And as you approach the pikes along the Langdale Valley, on the valley floor just outside a village called Chapel Stile, there is a collection of boulders which are adorned with Neolithic rock art. Like virtually all of such art in Britain, it seems abstract to us, and does not admit of any easy interpretation. It is impossible – when you are there – to think that the people who cut the marks on those rocks were not making a connection with the stone axe site, but the nature of the connection is now unknown. Perhaps they were directions, or messages of welcome, or warnings of how to treat the local deities – but we just don't know.
It's an enigma, and a pleasant one to contemplate as you make your own way along the valley… and one day I hope to spin all this lot into a story…