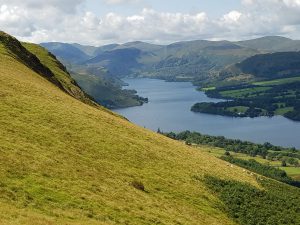 As well as Boot and the Hardknott Pass, which I've been talking about the last couple of weeks, I spent a fair amount of time around Ullswater while in Cumbria. It's the second longest of the lakes (after Windermere) and has often been claimed to be the most aesthetically pleasing. For example, Wainwright called it, "that loveliest of lakes, curving gracefully into the far distance". Be that as it may, it certainly has a wealth of natural beauty and historical interest. But the fact that at many points around its shores, the hills encroach very steeply, means that it is only thinly settled, and parts of it are quite difficult to approach except on foot or by using one of the several launches that go to and fro.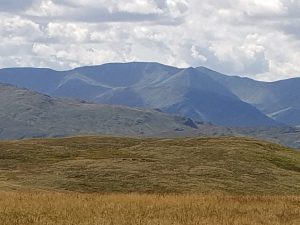 The particular part I want to focus on runs down the eastern side of the lake. It is another part of the Cumbrian network of ancient trackways – later adopted by the Romans for their own purposes. This one is now called High Street, running by the hill of that name a little further south, and ultimately connects to Ambleside… and hence Hardknott, Boot, and the coast.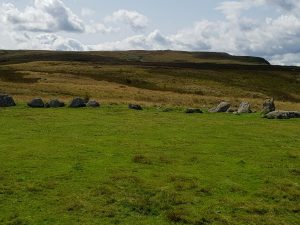 My starting point, after some gentle approach climbing up from the lake, was at an ancient stone circle called The Cockpit. Nobody knows the original name, or indeed the original purpose. It probably dates from the Bronze Age, could be up to about 5000 years old and is one component of a large collection of ancient sites on Moor Divock. Whenever and whyever it was built, it lay then as now on a crossroads. A roughly north-south route from Penrith to Ambleside crosses a roughly east-west route coming across from Castlerigg (near Keswick) to the Eden Valley and Shap. The much later Romans would be making similar journeys, though they were more interested in their settlement near Cockermouth than in looking at the Castlerigg stone circle. And nowadays casual explorers like me go there.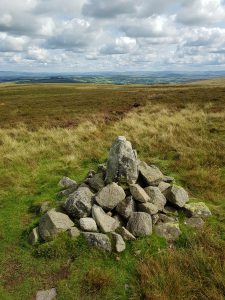 So from The Cockpit you head south – like Burnmoor near Boot, the current terrain is wild and slightly boggy, but back in the days of prehistoric occupation it was rather more pleasant. There's a long steady climb up towards Loadpot Hill, but well before you get there you can see many of lakeland's most dramatic peaks in the distance – Blencathra, Skiddaw, the whole length of the Helvellyn ridge, and then Fairfield and others heading south. You also regularly see other signs of human occupation, from other prehistoric arrangements of stones through Roman mileposts, to a very few much more recent (and ruined) dwellings. The track itself stretches out in front of you, and there's a real sense of walking in the footsteps of a whole throng of ancestors. You really could walk on through the Kirkstone Pass and down to the shores of Windermere, provided you were equipped for the journey.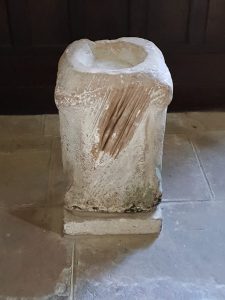 I didn't do that, but turned off the ridge into Martindale, where one last historical treat awaits. The current old church of St Martin's dates from Elizabethan times, but a church has been there since the Middle Ages. The font – which has been used there for some 500 years – was originally a Roman altar, retrieved by some enterprising villagers from somewhere along High Street. In the graveyard is an ancient yew, which some believe is among the oldest living trees in England and could be up to 1300 years old. That would probably predate the first appearance of Christianity here, and would mean that, like the Roman altar, it had once been involved in very different expressions of spirituality.
All in all a great walk, and one to revisit at some stage. And, of course, all good raw material to stir into the (pre)historical novel Quarry which is slowly coming together in my mind.