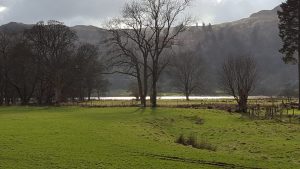 My first piece of news today is by way of celebration that I have been getting some Alexa voice skills active on the Amazon store. These can now be enabled on any of Amazon's Alexa-enabled devices, such as the Dot or Echo. One of these skills has to do with The Review blog, in that it will list out and read the opening lines of the last few posts there (along with a couple of other blogs I'm involved with). So if you're interested in a new way to access blogs, and you've got a suitable piece of equipment, browse along to the Alexa skills page and check out "Blog Reader". I'll be adding other blogs as time goes by.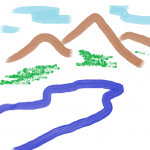 The second publicly available skill so far relates to my geographical love for England's Lake District. Called "Cumbria Events", this skill identifies upcoming events from the Visit Cumbria web site, and will read them out for the interested user. You can expect other skills to do with both writing and Cumbria to appear in time as I put them together. It's a pity that Alexa can't be persuaded to use a Cumbrian accent, but to date that is just not possible. Also, the skills are not yet available on the Amazon US site, so far as I know, but that should change before too long.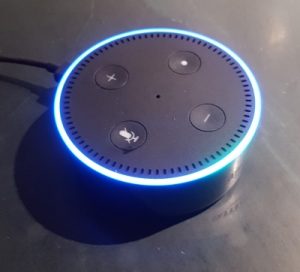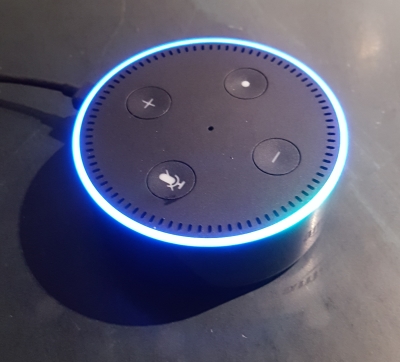 In the process I've discovered that writing skills for Alexa is a lot of fun! Like any other programming, you have to think about how people are going to use your piece of work, but unlike much of what I've done over the years, you can't force the user to interact in a particular way. They can say unexpected things, phrase the same request in any of several ways, and so on. Alexa's current limitation of about 8 seconds of comprehension favours a conversational approach in which the dialogue is kept open for additional requests. The female-gendered persona of my own science fiction writing, Slate, is totally conversational when she wants to be.
It all makes for a fascinating study of the current state of the art of AI. I feel that if we can crack unstructured, open-ended conversation from a device – with all of the subtleties and nuances that go along with speech – then it will be hard to say that a machine cannot be intelligent. Alexa is a very long way from that just now – you reach the constraints and limitations far too early. But even accepting all that, it's exciting that an easily available consumer device has so much capability, and is so easy to add capabilities.

But while all that was going on, a couple of hundred million kilometres away NASA ordered a course correction for the Mars Maven Orbiter. This spacecraft, which has been in orbit for the last couple of years, was never designed to return splendid pictures. Instead, its focus is the Martian atmosphere, and the way this is affected by solar radiation of various kinds. As such, it has provided a great deal of insight into Marian history. So MAVEN was instructed to carry out a small engine burn to keep it well clear of the moon Phobos. Normally they are well separated, but in about a week's time they would have been within a few seconds of one another. This was considered too risky, so the boost ensures that they won't now be too close.
Now this attracted my attention since Phobos plays a major part in Timing – it's right there on the cover, in fact. In the time-frame of Timing, there's a small settlement on Phobos, which is visited by the main characters Mitnash and Slate as they unravel a financial mystery. This moon is a pretty small object, shaped like a rugby ball about 22 km long and about 17 or 18 km across its girth, so my first reaction was to think what bad luck it was that Maven should be anywhere near Phobos. But in fact MAVEN is in a very elongated orbit to give a range of science measurements, so every now and again its orbit crosses that of Phobos – hence the precautions. This manoeuvre is expected to be the last one necessary for a very long time, given the orbital movements of both objects. So we shall continue getting atmospheric observations for a long while to come.