Today's blog about the link between King Arthur and Cumbria looks at his death, and the mysterious circumstances of the Lady of the Lake. But first, a link between a figure who was definitely real, and the Arthurian tales – the Matter of England, as it has been called.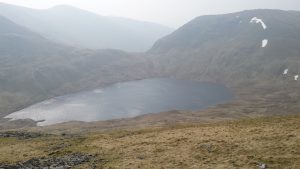 For this, you have to walk a little way up from the southernmost tip of Ullswater, from the villages of Glenridding or Patterdale. Follow what is now the Coast to Coast walk up the long valley until you get to Grisedale Tarn, in the saddle point between the summits of Fairfield and Dolly Wagon. From here, if you wanted, you could drop down again into Grasmere. And here, according to rumour, Dunmail, the last British king of the region and possibly the whole country, ordered his crown to be flung into the tarn rather than fall into the hands of his victorious enemies (see an earlier post I wrote all about this). When the time is right, just like Arthur, he and his men will reclaim the crown and return to England's help./ Now, Dunmail (probably) died around 975 AD, a few hundred years after the (probable) time of Arthur, but this shows that the connection was firmly in people's minds.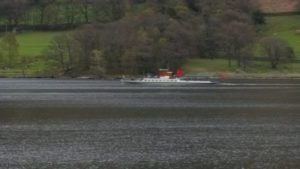 Returning back down the Grisedale valley to Ullswater I found, to my surprise, there is a belief that this was the Lake from which Arthur's sword came. Now, once again this part of the overall story had always been linked in my mind to the south. But not by everyone, apparently. One of the Ullswater passenger steamers is, in fact, called The Lady of the Lake to commemorate this. But how old is the tradition?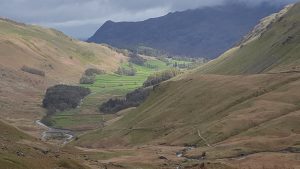 Like so many other things about these events, written evidence is comparatively late and almost certainly cannot be relied upon. We have to just look at possibilities.
Indeed, The historian Michael Wood went on record to the effect that the original stories "surprisingly, do not take us to the South West or to Wales, but to Cumbria, southern Scotland, and the ancient kingdom of Rheged, around the Solway". Arthur's final battle – at Camlann or Camboglanna  – has been variously placed in Cornwall, near Cader Idris in Wales, or near Carlisle – if we follow the norther trail, then the Roman fort of Birdoswald is a very good candidate. Those who watched the 2004 version of King Arthur may remember the whole northern setting. Several other events from Arthur's life can be credibly located along the Roman Wall, and if he really was mortally wounded here, then a retreat down to Ullswater is feasible. Carlisle to Pooley Bridge, the nearest point of Ullswater, is only about 20 miles.
I must admit that back in the days when I was committed to the southern theory, I could never reconcile the two mental images this last episode conjures up. One is of a moorland battle, with Arthur gazing round at bodies strewn among heather and gorse. The other is of the lakeshore where the sword was finally given back. Down south there are comparatively few places where these images could be reconciled. But a battle near the old wall, followed by a retreat to Ullswater, makes much more sense.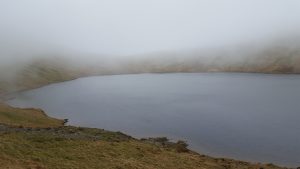 The setting is undoubtedly atmospheric, especially of a morning when mists hover over the waters, with the mountain peaks rising darkly above. When you're there, it's actually quite easy to imagine the Lady's arm emerging from the waters, or Sir Bedivere standing on the shoreline, sword in hand, torn between obedience and desire. I could go along with that.
What of his resting place? Again there is plenty of variety in the tradition to choose from. You have the romantic vision of him that artists often pick, in which he is carried away in a barge, tended to by queens. But there are other options. And according to one of these, Arthur, and possibly a selection of his followers, ended up in caves below Blencathra, also called Saddleback.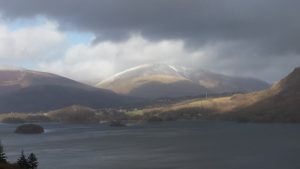 Blencathra is north east of Keswick, and only about 8 or 9 miles from the closest part of Ullswater. And it's a comparatively easy 8 or 9 miles, across open land not particularly broken up by hills and valleys. It's also an exceptionally bleak area to cross in the wrong sort of weather conditions. Now I have to admit I have never climbed Blencathra in all my many visits to the region – it's a bit shapeless at its summit, overlooked by the rather more interesting Skiddaw. And part of it – Sharp Edge – is one of the most hazardous locations of the region, resulting in more deaths, injuries and mountain rescue call-outs than anywhere else.  For a different and much more upbeat view, real mountaineers such as Doug Scott and Chris Bonnington have said it is one of their favourite climbs. Either way, some say that this is where Arthur rests.
There are lots of competing stories and interpretations, but for me the whole process has been one of realisation that the north-west has a very good claim to Arthur.