Today's blog collates various recent pieces of news about the asteroid belt and outer planets.
First, Ceres. The Dawn spacecraft has recently fired up its main ion drive again, in order to raise its orbit up to nearly 1500km. For the last few months it has been in orbit at 385km, closer to Ceres than the ISS is to us here on  Earth. This low orbit has been great for studying surface features, but there is plenty of science to be done from higher up, not least because the final orientation of the orbit in relation to Ceres and the sun will be quite different than on initial approach – this time it will go over the poles. The polar orbit is ideal for searching for additional water supplies to complement the ice already found (both on the surface and also below it). So the change was made while there is still enough fuel for the ion drive to make this transfer. A difficult choice had to be made between this, or the possibliity of moving on to a third asteroid – since Dawn has already over-delivered on the original objectives, either would have been a remarkable achievement.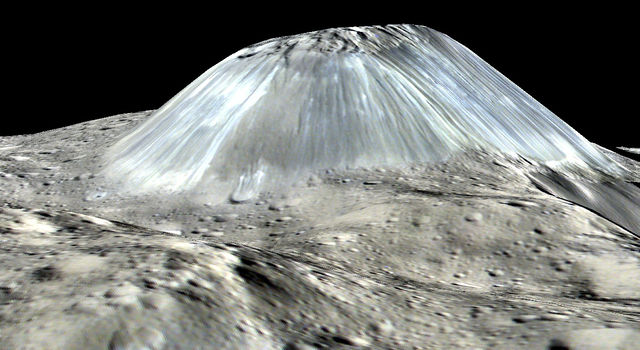 One of the last news releases before the orbit shift was about ice volcanoes, and in particular the volcano Ahuna Mons. It is an unusual shape, with other strange features, and the most plausible explanation at the moment is that it is basically a water volcano, spitting out water from a base of salty mud. Careful measurements of the orbital path have shown that the interior also contains a lot of water ice, probably arranged in a concentric shell around a rocky core. The asteroid – properly speaking a dwarf planet – is rather less dense than Earth or our Moon, but has an interesting internal structure which, perhaps, can one day be investigated more closely. At the same time, some traces of a very thin atmosphere were found – vastly too little to survive on, but enough to shape some surface conditions and interfere with the flow of the solar wind.
Other studies from low orbit include the bright patches first noticed on the original approach. The brightest of all of these are in Occator Crater, and closer inspection has shown a large group of irregular refletive areas. The most prevalent theory is that they are patches of salt, exposed on the surface by geological activity from inide the planet as well as meteor impact from outside.
What we don't know, of course, is how far these features are typical of asteroids more generally. Would, for example, prospective visitors to my fictional Scilly Isle asteroids find similar phenomena? At this stage, we don't know. Dawn has visited just two asteroids – Ceres and Vesta. They were chosen in part because they are different from each other in various ways, not least the amount of water ice available (Vesta is much drier). It seems unlikely that these two snapshots have exhausted all the variety that there is to see.
Insofar as I have thought about the origins of the setting for these stories (and most of my thinking has been on much more immediate background) it seems likely that the hypothetical Scilly Isle asteroids would have common ancestry. After all, they're only a matter of a few tens of thousands of km apart, and it would be a wild coincidence if they had all come from different places. In passing, this makes for a curious parallel with the real islands off the Cornish coast, since many of the islands we enjoy as separate places today were aggregated into a single island within fairly recent history. Bryher and Tresco were united as recently as the late 16th century, and in the Bronze Age only St Agnes was separate of the inhabited islands.
The presence of water ice in most of the solar system has become apparent over the last few years, and I have assumed that water supply would not be a problem for settlers. So far as Ceres goes, that's certainly true. Our understanding of the particular details of how the ice is distributed will no doubt continue to evolve.
Much the same applies to mineral deposits of all kinds. Fictional asteroidal Scilly is full of failed attempts to mine substances. Today's science community is rather divided as to whether asteroid mining will ever be financially viable. There is little doubt that all kinds of extractable material is present there, but serious questions remain as to whether the concentration or total volume is sufficient to meet the costs. In the books, Mitnash and his friends can make a decent return out of extracting rare earth elements from distributed areas of space with a higher proportion of dust and small rubble, variously called shoals and reefs in keeping with the oceanic turns of phrase throughout. We don't yet know if this is feasible. As with so much else, we will have to wait for further exploration. Dawn has shown that a great deal can be done with automated probes, and it would be nice to imagine a long-term plan to map much larger sections of the asteroid belt.
It's appropriate to finish for today with a quick mention of Juno, orbiting Jupiter and starting to return impressive levels of information. Here's a picture of Jupiter's north pole, a sight impossible to see from Earth.