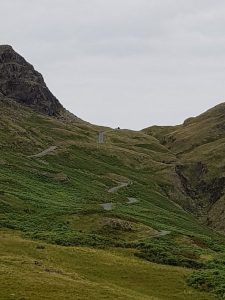 Last week I talked about my trip across to Boot and thence up onto Burnmoor to enjoy the prehistoric monuments there. Readers will remember that I had got there over the Hardknott Pass. But the pass itself enjoys another ancient ruin – the much more recent Roman fort of Mediobogdum. It is surprisingly well preserved – presumably because it is far enough away from any of the nearby farms that the stones were not robbed too extensively for building projects.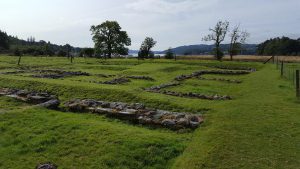 It's one of those forts which makes you curious about the Roman predilection for building forts at regular intervals. At least, I presume that this is the reason for building just here. The next fort along is down at Ambleside, at the top end of Windermere – we suspect that this is either Galava or Clanoventa as mentioned by Antonine, and the local publicity strongly favours the first of these. That fort – which is also worth a visit – has been nicely reconstructed so you can easily imagine the life of the garrison, with easy access along northern, north-eastern, and southern land routes, and a decent-sized port to access the lake. But from Ambleside you can also head  more-or-less due west, towards the distant sea. To get there you have to cross ridges containing some of the highest Lakeland peaks, and the Romans – like modern road-builders – chose to go over the Wrynose and Hardknott passes.
(As an aside, just to finish the chain of forts and roads, you can head roughly north-west from Ambleside to get over the High Street route (which was an ancient track long before the Romans borrowed it) up to near Penrith and thence on to Hadrian's Wall. I'll be saying more about High Street in another post soon. From Penrith you could also go along what is now the A66 west towards Troutbeck, or east towards Appleby-in-Westmorland. Or southwards towards Kendal, Kirkby Lonsdale and Lancaster.)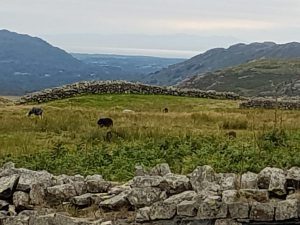 But then we get to the business of regular intervals, The Romans could have marched on a few miles further down into the valley before building their next fort – say down to the village of Boot, which is comparatively sheltered and protected. But no – the fort was built high up in the pass. In summer it is a spectacular place, with views all the way down Eskdale to the Irish Sea and over to the Isle of Man. The road ended at the sea, at Itunocelum. Now, on a fine day, it would be a great place to be posted. But even in summer, you get a lot of days with low cloud pressing a long way down the pass, or wet trade winds bringing drizzle or worse up from the sea. My guess is that even in summer, you get the great views at most one day in three.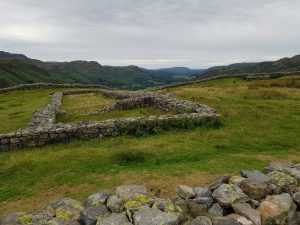 And then there's the winter days, when a soldier in the garrison would expect lots of gloom, cold and darkness! If you had come up here from southern Italy, you might well be wondering where on Earth you had come to! It's not even as though there were large numbers of hostile natives to keep at bay – it would have made more sense to site the fort somewhere else.
But here is Mediobogdum. On a clear day it is genuinely spectacular, and also gives a peculiar insight into Roman military thinking.