Two quick bits of space news this week that – all being well – could make their way into a story one day.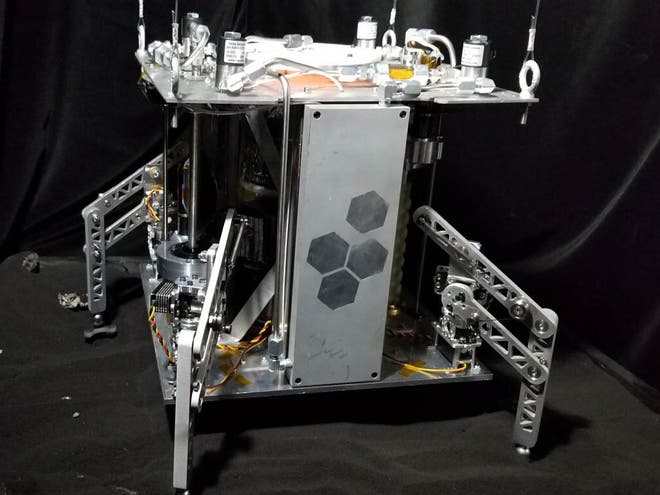 The first was an idea of powering space probes by steam. Now, at first read this sounds very retro, but it deserves some thought. In space, you can't move along by means of steam pressure turning wheels – there is nothing against which to gain traction. Steam-propelled rockets work like any other rocket – something gets ejected at great speed in one direction, so as to accelerate the rocket in the opposite direction. The steam engine part of the probe is a means of converting the fuel supply into something that can be directed out of the thruster nozzle. The steam, heated as hot as possible to give a high nozzle exit temperature, is the propellant.
The cool thing about pushing steam out of the back, is that it comes from water, and in particular ice. And, as we have been discovering over the last few decades, water ice is extremely common throughout the solar system, and more widely through the universe. So as and when the steam-powered spaceship starts to run low on fuel, it can land on some promising object and collect some more ice. The fuel supply, while not strictly unlimited, is vastly common wherever we're likely to go. As and when needed, solar panels or (further from the sun) a standard radioactive decay engine can give a boost, but the steam engine would do the grunt work of getting from one refueling station to the next.
Secondly, pursuing my occasional theme of alcohol in space, I read about a firm from Georgia (the country, not the US state) that wants to develop grape varieties that would survive on Mars and, in due course, be convertible into decent wine. This would be a serious challenge, given the low air pressure, high carbon monoxide levels, and wide temperature swings of said planet. As a rough rule of thumb, the air at the Martian surface is about the same as at 20,000′ here on Earth. Apparently, white varieties are reckoned to be more adaptable than red, but I suspect that we are a little way away from resounding success here.
Other attempts to ensure that future space travellers will not have to go without booze include Budweiser sending barley seeds into space to identify the effect of microgravity on germination, steeping and kilning – three steps in the production of malt. See this link. Allegedly, also, a bottle of Scotch Whisky spent three years on the ISS before returning to Earth for analysis… the resulting taste was said to be disappointing. I hope the ISS crew got a few measures out of the bottle before sending it back down again.
That's it for today, except to wonder again how each of these ideas could be storified. My own near-future science fiction books assume an advanced version of today's ion drives for propelling spacecraft, but there's no reason why steam propulsion might not appear as a previous experiment. As to wine in space, well I have already assumed that the problems of fermenting beer in microgravity have been resolved, so again this would have to be a retrospective view of historical developments. Basically, both of these innovations are set between today and my own future world. So I'm looking forward to seeing how they get sorted out in the next decade or two…