I was intrigued the other day to read that one of the science experiments being sent up to the ISS on the latest Dragon shuttle was "Malting ABI Voyager Barley Seeds in Microgravity". The experiment was organised by Anheuser-Busch, makers of Budweiser beer and other brands, and is the latest in a series of experiments intended to explore the various stages of brewing in microgravity. Of course there are loads of other experiments that go in up there in low orbit. There are ones that test the medical biology of human life in space, others that investigate minerals and chemicals – there's even a cookie oven that was sent up so the residents at the time could have fun doing the first baking in space.
But these occasional forays into beer brewing intrigued me, on account of what we do here at Grasmere Brewery. Before that, though, what exactly is the process of malting barley, and why is it important?
Basically, any alcoholic drink is made by taking some source of sugar, and allowing particular kinds of yeast to eat the sugar and convert it into alcohol. In simplified chemical symbols, C6H12O6 → 2 C2H5OH + 2 CO2 … one unit of sucrose turns into two of ethanol and two of carbon dioxide. The latter bubbles off the top of the liquid (or remains in it as fizz). Now, the original source of sugar for wines is some kind of fruit – like grapes – in which the fruit sugar is immediately available to the yeast.
But you can also use grain as the original source of sugar, and this is particularly useful if you live in cooler climates, where grapes struggle to grow, and fruit generally is less abundant. So we make beer in northern Europe (and similar climates), and wine further south. But grain brewing has a problem – the sugars in the grain are locked up in starch, which nature had intended to be the food reserve for the growing seed next year, and which yeasts can't use at all effectively. So… malting is the process of persuading the seeds to convert their starch into sugars, and it is done by encouraging the individual grains to begin sprouting.
So the individual barley grains are steeped in water for a suitable period of time to attain a specific proportion of water content, then spread out and kept moist at around at around 18° centigrade for 4 or 5 days until they sprout roots and shoots to a particular length. As this happens, the growing tip itself carries out the starch to sugar conversion for us. At the desired size, the grains are dried out at a temperature below 50° (too hot, and the enzymes and flavour you want will be killed off), and the little rootlets removed. At this point you have pale malt, and depending what you want to end up with you can also gently toast the result to a range of darker colours.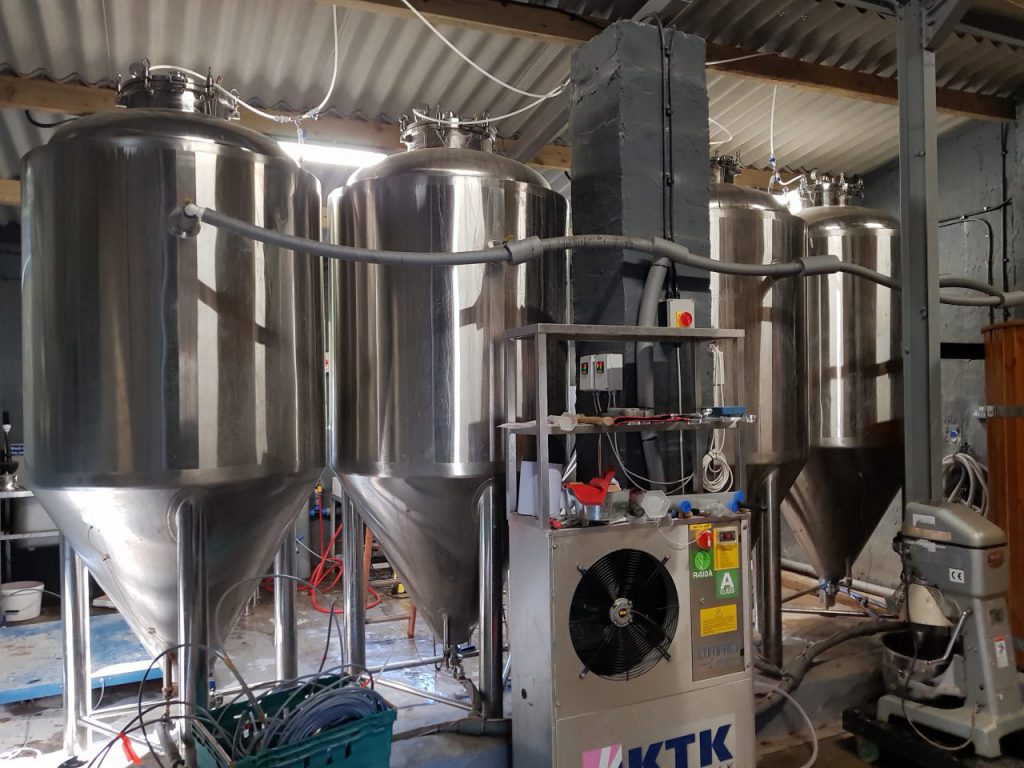 Now, it has to be said that most small and medium breweries – including our own – do not do their own malting. It is a specialised task needing careful control and a lot of experience, and we just buy in barley which has already been malted. But keen home-brewers might well give it a go in their own kitchen, and very large breweries bring the job in-house – hence Anheuser-Busch's interest in seeing what happens in space. Which brings us back to the main point of this blog post! As I have described it, it sounds like gravity plays no particular role in the malting process – so why wouldn't it work in just the same way in orbit as on the Earth's surface? But until you try it, you don't really know. Perhaps the dormant seeds expect a particular gravitational tug in order to get roots and shoots activated. Perhaps the environment of moisture and temperature needs to be modified to allow for the lack of direction in space, and the consequent failure of normal convection air currents.
My feeling is that the malting experiment will just work, and that it will be later stages of the fermentation process which will present more problems to future space breweries. But we shall see.
Now, from a story-telling point of view, what can we glean from all this? First, it's fascinating to realise that space flight is becoming sufficiently normalised that we can contemplate experimenting with things that are, in effect, a little frivolous! We don't actually need to make beer or cookies in space – we could get away with water and freeze-dried meals – but in order to make colonisation of the Moon, Mars, the asteroid belt, or wherever, seem more palatable to most of us, we would like to think that the lifestyle won't forever consist of camping rations. The prospect of producing the first pale ale – or possibly red bitter – out of the Valles Marineris brewery on Mars is very enticing! Indeed, Anheuser-Busch declared a couple of years ago that they intended to open the first brewery on Mars.
Of course, in one sense, being able to malt barley in low gravity only pushes the problem back one stage – do we imagine that the barley itself will be grown on Mars (or wherever), perhaps in huge hydroponics bays, or do we reckon that freight space will be taken up by ship loads of grain being moved around? You need a lot of barley – at Grasmere Brewery, typically 7 or 8 bags of malt, each 25kg, go into a brew of around 1100 litres. After some process wastage, that ends up in 20 kegs, or around 1750 pints. That doesn't last long in the busy summer months… So whether you choose hydroponics or space haulage, you're committing a decent chunk of resources to supplying barley.
Either option might make a good seed for a story…