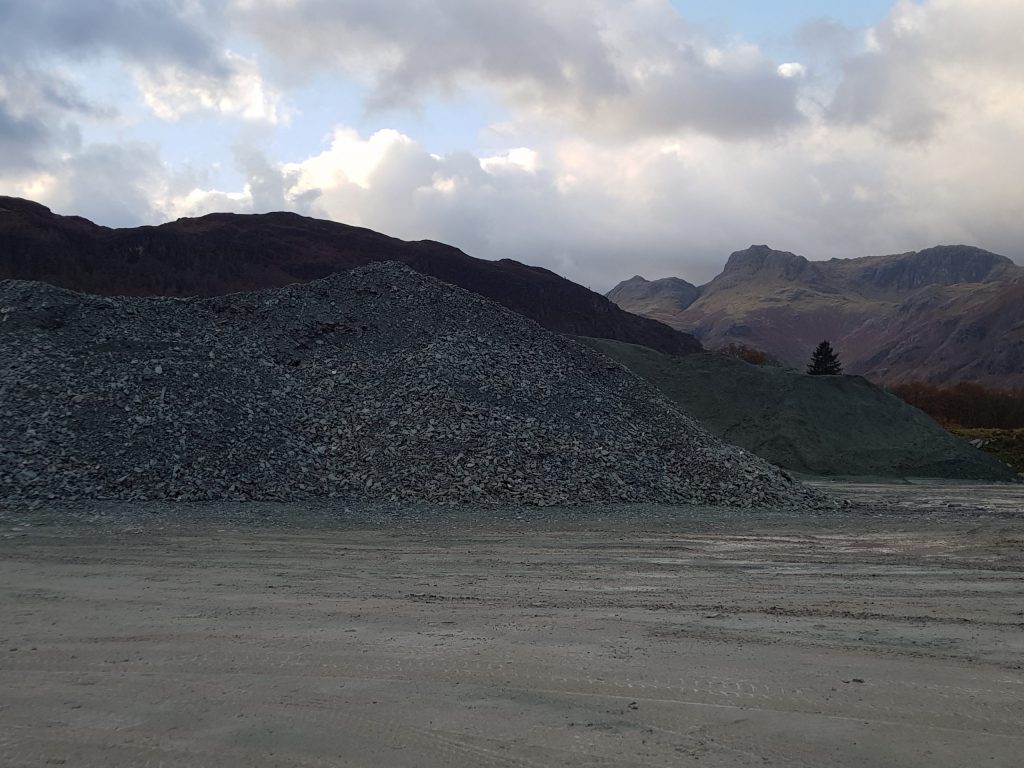 Life has been busy of late with one thing and another, hence another gap in blogging. There are lots of reasons for this, lots of different things going on, but one of them has involved a lot of trips to Elterwater Quarry in the Langdale Valley, to collect lots of slate chippings ("20mm crusher run", to be precise). Of course, once the chippings arrived back at the house, there was all kinds of wheelbarrow and shovel work to get them where we wanted, but that wasn't what I was going to write about.
The picture above shows one of the many piles of chippings at the quarry. In the background are the Langdale Pikes, where, something like 5 or 6000 years ago, there was a highly skilled and specialised quarry. Stone axes made from Langdale stone have been found throughout Britain and Ireland – one estimate suggests that over a quarter of all stone axes found in the British Isles come from Langdale. Some evidence suggests that the work at Langdale was largely extraction and rough shaping, with final polishing and finishing happening just north of what we now call Sellafield, near the west coast of Cumbria. Quarrying at Langdale went on for a very long time, and my suspicion is that all manner of work, from generic to skilled, happened there at one time or another.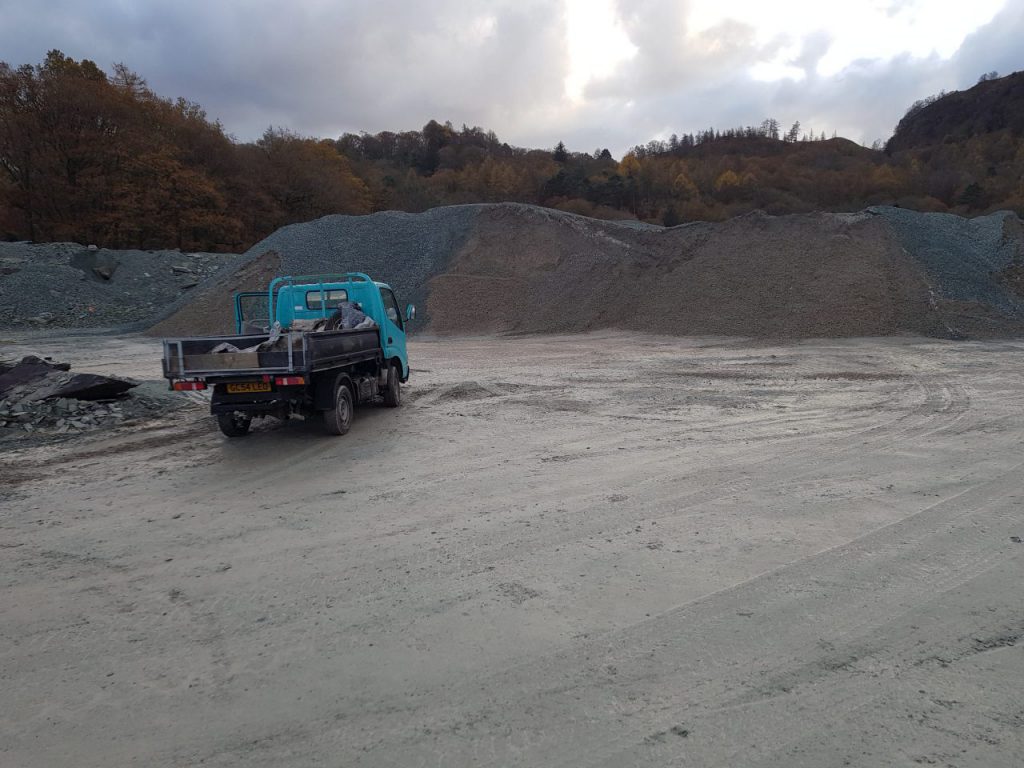 There are many quarries in Langdale, and the valley routes through the Tilberthwaite area, down towards Coniston. Most of them are much more modern than Langdale, and most of them are slate quarries, though here and there you will find places where metals or minerals used to be extracted. Almost all of them are worked out now – Elterwater is one of the few still operating in any capacity. The Tilberthwaite walk takes you through and past long avenues of slate spoil heaps, left among the trees which are steadily reclaiming the area. It is easy to imagine a time when these quarries would have been the workplace for hundreds of local men. At one stage many of the quarries were small-scale, family or team enterprises. As time went by they gradually aggregated into larger organisations.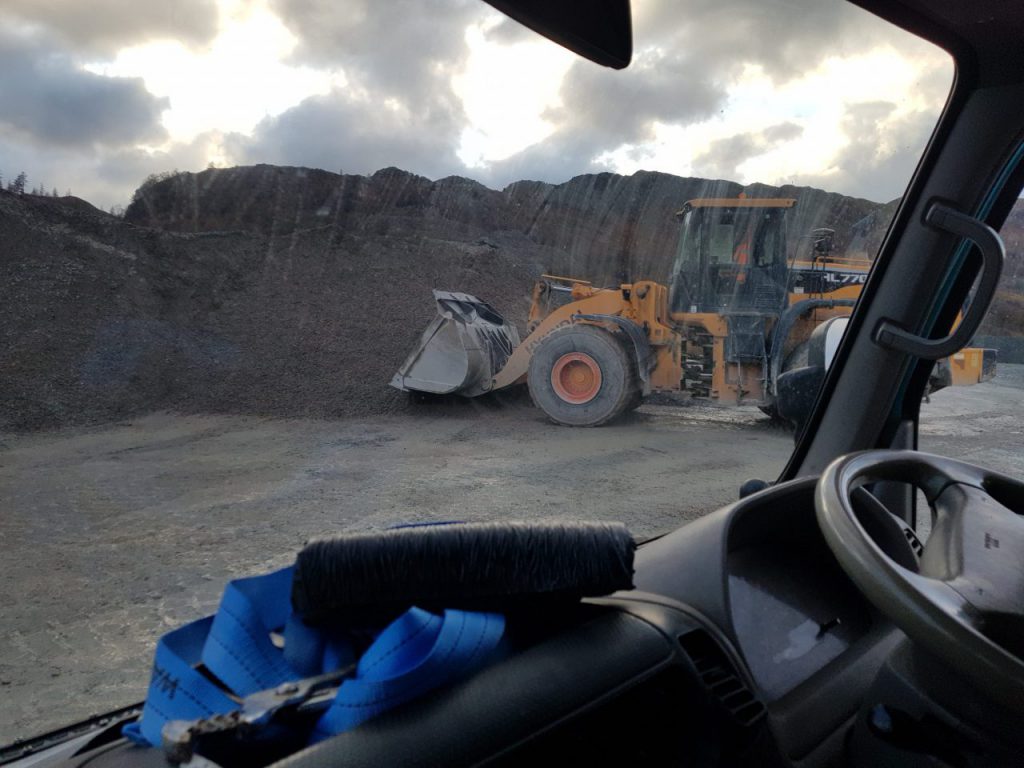 As well as the numerical decline in active quarries, there has been a parallel decline in skilled stonemasonry work. Until about this time last year, Elterwater sold not just stone and chippings, but worked stone. Skilled stonemasons were employed – slate is a very attractive stone to see in buildings, but it is tricky to work with. Last winter all that changed: the skilled workers were laid off, and the quarry transitioned to selling raw material only. When you go now, there is a handful of people working – a young lad at the weighbridge who takes your money as you leave, and a few guys operating heavy machinery. Our little truck was one of the smaller vehicles there, and it is common to see much larger lorries heavily laden – our vehicle takes around a ton and a half with comfort, which is rather less than a single scoop of the digger in the picture, and considerably less than most vehicles leaving the quarry.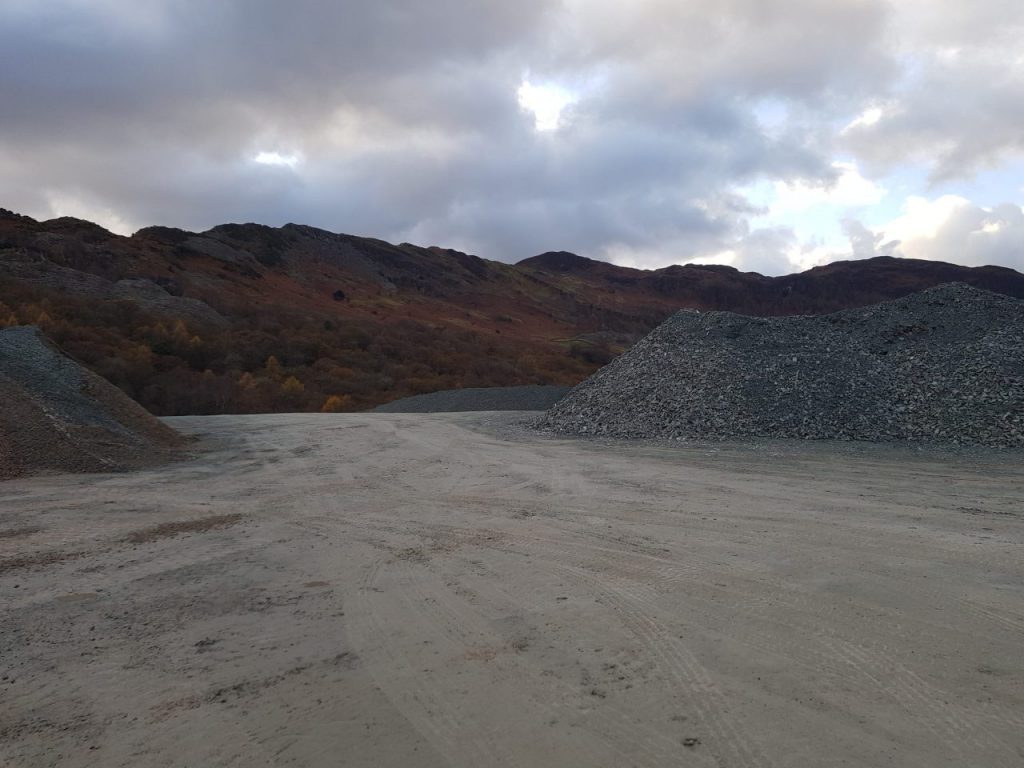 It is a strange feeling to be both participating in an industry that has been carried out in this area for millennia, and also witnessing what may well be its final decline. There's a lot of slate still lying around, but as you wander about it takes hardly any time to see similar piles of slate now abandoned – Lingmoor, Chapel Stile, and the Langdale Pikes themselves all stand out. Now, if I lived in the villages of Elterwater or Chapel Stile, I might well be heartily fed up with the regular passage of heavy lorries, with all the vibration, noise and dust that are produced. Maybe it's a better solution to ship stone around the world from somebody else's quarries, though it's hard to believe that it makes economic sense.
Turning to fiction, I still have a long-term aspiration to write about the Neolithic quarrying on the Langdales – the very beginnings of all this stonework that still continues here, albeit in a different form. At the time, the Langdale valley was thick with hazel trees and squirrels, as well as skilled masons. It also has a number of sites showing the as-yet-undeciphered rock art originating in the same era, of which the most prominent is at Copt Howe, just outside Chapel Stile. One opinion is that the markings on this outcrop served as a kind of map of the valley and its mineral wealth. If so, we cannot read the map any more.
Looking to the future, I am sure that quarrying will continue into the future I write about in Far from the Spaceports and its sequels. I'm sure that habitats on moons and asteroids will be constructed by devices derived from today's 3d printers, but they will need raw material, and what better substance than the granulated and ground rocks of the surroundings? I suspect that the process will be more automated, and so involve even fewer people, than Elterwater Quarry employs nowadays.