In July 2015 the NASA New Horizons space probe passed Pluto at a distance of under 8000 miles, in the process providing us with the first close-up data of this miniature world and its companion moons. The whole package of scientific and image data took over a year to download to Earth, and a complete analysis will take a considerable time yet. It was also roughly a year after that flyby that I started writing The Liminal Zone, set out on Pluto's moon Charon.
New Horizons went on to have a close encounter with the unromantically named 2014 MU69 (often called Ultima Thule) in January of this year. Data from that meeting will not be fully downloaded until September next year. And mission planners are considering options for possible future encounters: if no suitable Kuiper Belt object is identified, then the on-board instruments will simply continue to return data about the remote environment in which the spaceship finds itself. The power source is finite, and will run out sometime in the late 2030s, the exact time depending on what tasks the craft is called upon to perform.
But today's blog remains focused on Pluto and its moons. Not so very long ago, Pluto was regarded as utterly inhospitable and uninteresting. If you were going to locate a science fiction plot within the solar system, you wouldn't choose Pluto. Pretty much any other planet or moon seemed preferable, and it was hard to conceive of Pluto as anything but bitterly cold and rather featureless. New Horizons has changed that perspective. It now seems that this small body – downgraded in 2006 from being classed as "planet" to "dwarf planet", in a decision which continues to be fiercely debated and may well be reversed at some point – is one of the most complex and interesting objects anywhere within the solar system. Not only is there a wide range of dramatic geological phenomena, but all the evidence points to ongoing activity out there. Pluto is not a frozen dead world, but one which continues to change and adapt.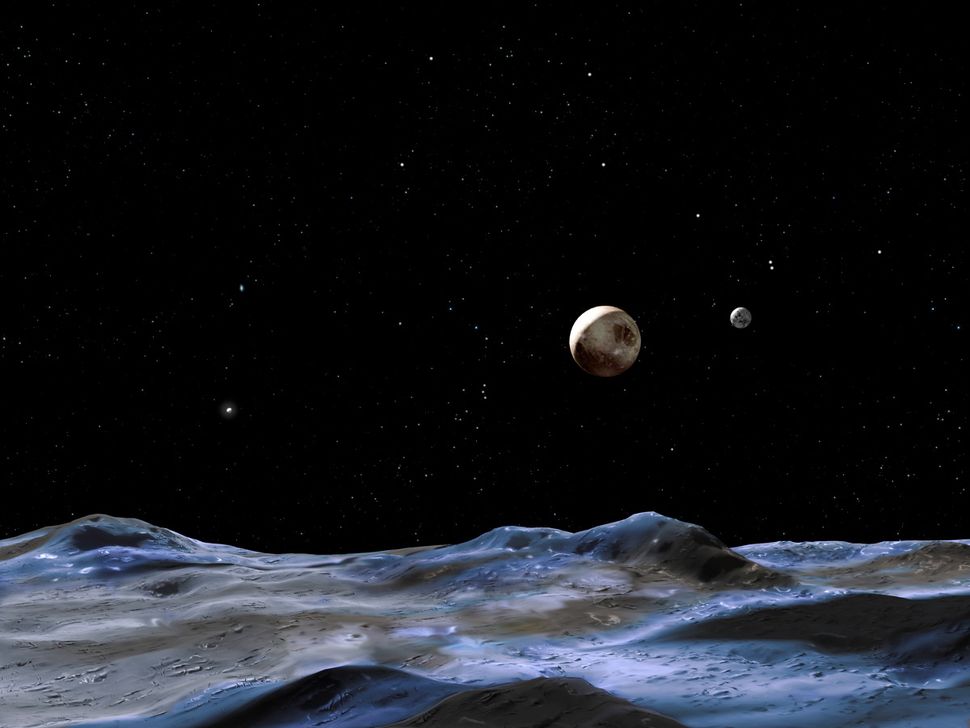 So interesting is it, that NASA is currently considering another mission to Pluto, this time with a view to remaining in orbit for an extended period rather than just zooming by at great speed. This would require a different kind of orbital trajectory – New Horizons' course was deliberately set up to gain as much speed as possible from gravity assists ("slingshots") in order to minimise the time to get there. If you plan to remain in orbit, you have to approach at a considerably lower speed to allow the modest gravitational pull to draw you in. The outline plan calls for a two-year period in orbit, followed by another onward journey – probably using Charon to slingshot away – to a suitable destination elsewhere in the Kuiper Belt. My guess is that the spaceship would need to use an ion drive, just as the asteroid probe Dawn did – this has vastly lower acceleration than a conventional chemical motor, but remains on for very long periods of time, adding speed minute by minute, hour by hour. It's an exciting prospect if you like Pluto – two years of extended study rather than an action-packed 24 hours. If given the go-ahead. take-off would be over a decade away, and I will be in my 90s before data starts coming back. I guess it will be something to entertain me in old age!
Meanwhile, I shall continue writing about Pluto and Charon using the information we already know, and a generous dollop of speculation. Why choose Pluto? Well, The Liminal Zone opens on a research base out on Charon, using a collection of instruments called The Array to study what lies further out. It's analogous to siting a terrestrial telescope on a high mountain – you avoid most of the light and electromagnetic noise generated by other people, and can concentrate on tiny signals which are easily drowned out. Into this situation comes Nina, curious about strange local tales which have no easy explanation.
For fun, here's a short extract from when Nina arrives
Finally the landing was complete, with the smallest of jolts as the ship docked. And since she was the only passenger – and had been since the orbit of Ceres – there were no additional delays. All her belongings were already at her side, and she just walked out through the concertina into the entryway for the Charon habitat. It was all quite anticlimactic.

Her accommodation was about two thirds of the way out along the Lethe habitat. She stepped carefully along the corridor to acclimatise herself – the gravity was about a fifth of what she was used to on the Moon, so it needed care, but was manageable. The porter had given her a little hand-held which was directing her to the suite of rooms. That very word, suite, sounded too grand for her taste. She was used to more modest facilities. Indeed, the whole building seemed needlessly large to her, particularly after the weeks of confinement on the freighter. She decided that she could always close some of the doors and just live in one room, if the space in her quarters was overwhelming.

But when she got there, it wasn't that easy. The ceiling vaulted high above her in the main chamber, and several secondary rooms clustered around it like soap bubbles. A privacy screen shimmered over a gap diametrically opposite the main door – sleeping quarters or comfort facilities, she supposed – but the rest was all open-plan. To her left was an emergency evacuation airlock, displaying all the standard alert signs. There were cupboards in doors on several walls; opening one at random she found some eating utensils. She put her carryall and daypack on one of the chairs, and wandered aimlessly about. With this apparently reckless attitude to the vacuum outside, the room didn't feel like anywhere else she had visited. The space was daunting.

Finally she perched uncomfortably on a stool, one of half a dozen arranged haphazardly around a long table. The suite of rooms was almost silent, except for a quiet mechanical buzz which she only noticed with deliberate effort. She cleared her throat nervously.

"Is there a domestic system online?"

"Hello. Are you the new occupant?"