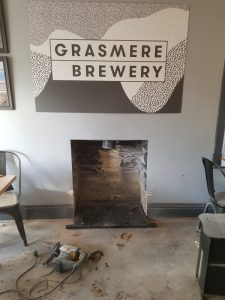 This week I helped swap over an old wood-burning stove for a new one. As has been my experience of all practical jobs, what had promised to be a fairly straightforward out-with-the-old-and-in-with-the-new process ended up having unexpected wrinkles. The chimney pot also needed replacing (since the old fire didn't draw very well), and a new chimney liner had to be put in. And there was an old liner which had to be pulled out – both liners follow a chimney which is about ten or eleven metres high, so these were interesting tasks in themselves.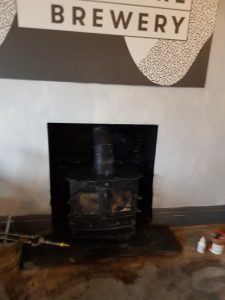 Then an old hearth had to be taken out (which has already happened in the picture above, thanks to the very large drill on the floor, plus a sledgehammer and other hefty tools). Then the new stove had to be moved into position and the exit pipe fastened to the chimney liner with suitable gunk.
Then the paintwork had to be touched up where it had been bashed about by all this. And finally the copious amounts of dust – from stone, soot, brick and ash – had to be cleaned up on pretty much every surface in the room!
The story has a happy ending – the new fire really does light, as you'll see below, and early impressions are that it is doing a better job than the old one. But while doing this job, I had plenty of time to contemplate fire. Or more widely, energy.
There are some places on planet Earth where people can live without using any energy source for heating, though most places need something at least in wintertime. But every society that I know of, world-wide, has harnessed fire for cooking. This isn't just for aesthetic or culinary satisfaction – the process of cooking food makes a much wider range of nutrients accessible to our digestive system in much more reliable quantities. So the harnessing of fire for cooking – something like a couple of million years ago, give or take – liberated our hominid ancestors to get on with other things rather than have to forage endlessly. They could prepare food so as to use it more efficiently, and store it so as to survive lean times.
They could invent fish hooks and jewellery in their spare time, create artwork and conduct sacred ceremonies. (They also designed weapons of increasing effectiveness, and social orders which exaggerated differences in wealth between individuals, but we'll skip over that for today). The use of fire for cooking seems to coincide with one of those great leaps forward in the often-slow process of human development, signalling this opportunity for our remote ancestors to explore and comprehend their world with intelligence.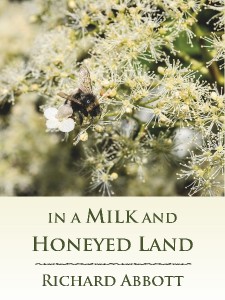 All this happened in remote prehistory – long before the Late Bronze Age of In a Milk and Honeyed Land and its sequels, and long before the Langdale world where Quarry will be mainly set. By those times, fire and cooking were established parts of life whose origins were lost in the unfathomable world of the ancestors. But fire – energy – has remained a key part of our expanding world. Our ability to inhabit every part of the world has relied totally on our ability to maintain adequate warmth in our houses. An unprotected human in the middle of an Antarctic winter wind would die within thirty minutes at most, and would be crippled long before that.
A wood-burning stove is basically a very old bit of technology – except the one I helped with was made of metal, which pushes the date much more recent. But the problem it is helping to solve is perennial. Nowadays we don't actually need to burn wood to generate heat, though many people find the experience of being warmed by an actual fire to be more comforting and engaging than just switching on a radiator. Energy from many sources is fed into our electricity grid – coal, water, wind, oil, nuclear, solar – and whatever the source, it runs an electric fire very nicely. The choice of our national energy spectrum of sources is – and should be – made according to national and global considerations, not whether I personally happen to have one device or another.
And the situation become more stark as we go out into space. Space, as well as being mind-bogglingly big – is a weird place. In one sense it is freezing cold – a warm body will radiate away energy at a steady rate. But in another sense it is full of energy – light from the sun, electromagnetic radiation, and down at a quantum level a whole sea of vibrant energy just waiting to be collected. Whether we send out a robotic probe like Dawn, or we go elsewhere in person, we either take our energy with us or we collect it from the void around. The Juno probe has huge solar power collectors – each of those three panels in the picture is about the height of a typical house – and it is operating  almost at the outer limit of where such solar panels can be used. Probes that go further from the sun must carry their energy with them, and when it runs out they will die.
Most science fiction writers assume that the spaceships that they write about can refuel somewhere in space – maybe by gathering up interstellar hydrogen as they travel about using one variation or another of an idea of the physicist Robert Bussard – Poul Anderson's Tau Zero was a relatively early novel making use of a Bussard ramjet, and at some stage Star Trek script writers decided that this was how the Enterprise and other similar ships gathered fuel (alongside matter-antimatter reactions and dilithium crystals). That way your ship can carry on boldly going without the inconvenience of having to stop at a nearby starbase just to load fuel into the necessary bunkers.
However it's done, people will continue to need energy – fire – wherever they go. I think it's most unlikely that energy sources in my science fiction books look anything like a wood-burning stove, but whatever they do look like, they serve the same purpose.