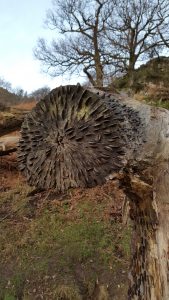 I've been thinking on and off about superstitions for a little while now, and it's clear from other people's blogs that I'm not alone in this. Synchronicity, perhaps.
To be clear, I see a big difference between superstition and religious faith, and I'm not going to be critical of either. They both are built around the conviction that actions in the here and now are not just casual and without consequence. Instead, they carry weighty implications which resonate in both natural and spiritual worlds. Religious people can be superstitious, and non-religious people can be superstitious – though the rational constructions of each of religion, atheism, and science are typically hostile to such practices. People of any religion or none might throw a pinch of salt over their shoulder, or uncross knives in a drawer, or say "white rabbits" at the start of a month, or avoid walking on the divisions between paving slabs!
Religious thought tends to be more systematic, with a careful body of thought surrounding its core principles. Whether embedded in a written or oral tradition, faith encourages theology – rational exploration of the hinterland of a central mystery which itself eludes the possibility of capture. Superstition is based around individual actions which do not necessarily build into a coherent whole. Each such action serves a specific purpose, often placatory, and doesn't have to be combined with anything else.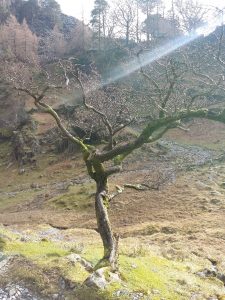 One of the fascinating things about superstitions is that they are often tied to particular situations. Often this is to do with place – some specific deed must be done in a specific place in order to be effective. So we have all kinds of special places – trees, bodies of water, hills, and so on, often quite separate from the deeply sacred foci of religious thought. A wishing well might be found only a short distance from, say, Stonehenge, or the temple at Karnak.
But as well as a special place, there are special things to do or items to use. Maybe special words to use. For today, out of all the superstitions in the world, I want to focus briefly on leaving gifts of metal. Most old towns in England – and no doubt elsewhere as well – have a wishing well where people leave coins. Often these days the coinage is collected and given to charity, but the impulse is, I believe, much older and much less thought-through than making a donation to a worthy cause.
Back in the Bronze Age in northern Europe, metal items were regularly deposited in large quantities in streams and rivers. We find tools, weapons, scraps of spare metal, jewellery and so on – the whole gamut of artefacts. In some cases these might possibly be understood as a ritual deposit of weapons, either captured from some enemy or, perhaps, being 'retired' after the death of the wielder. In most cases we just don't know the reason.
What we do know is that over time this developed into a veritable industry in its own right. We find huge deposits of tools, typically axe heads without the shaft, carefully buried or placed in piles. These represent a huge investment of time and effort – the ore had to be dug, the metal prepared and moulded, and so on. But in many cases these are not items at the end of long and faithful service – they had never been used in either war or peace, and often the metal was far too soft to be useful in any sphere. These axes were made just to be disposed of.
It's hard to think of a reason for this, given the limited resources available to the societies of the time. Often we humans have indulged in conspicuous consumption and waste, just to prove we can. Perhaps these axe deposits were an offering to placate someone or something. Perhaps the return of metal to the Earth was seen as closing the cycle of extraction. It's an open field for guesswork, but for today I'm going to link it with the long lineage of metal gifts which also surfaces in wishing wells.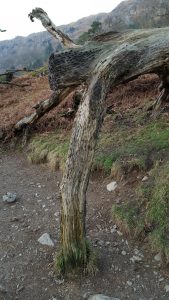 But there's another similar modern habit which – at least in my mind – is connected to this. It is the habit of hammering coins into trees. In some places you can find hundreds of coins all driven into a stump or old tree – the pictures are from Cumbria, between Grasmere and Rydal, but you could find similar scenes in many other places. I don't think there was anything particularly unusual about these trees to start with – but as one person after another follows suit then the place starts to gather its own perceived value.
So the ancient tradition of giving back metal to the planet, whether in water, underground, or attached to a tree, is very much alive still in our century! I wonder which existing superstitions we will take into the future with us, and which new ones we will invent?