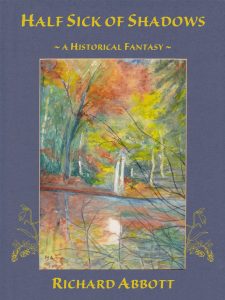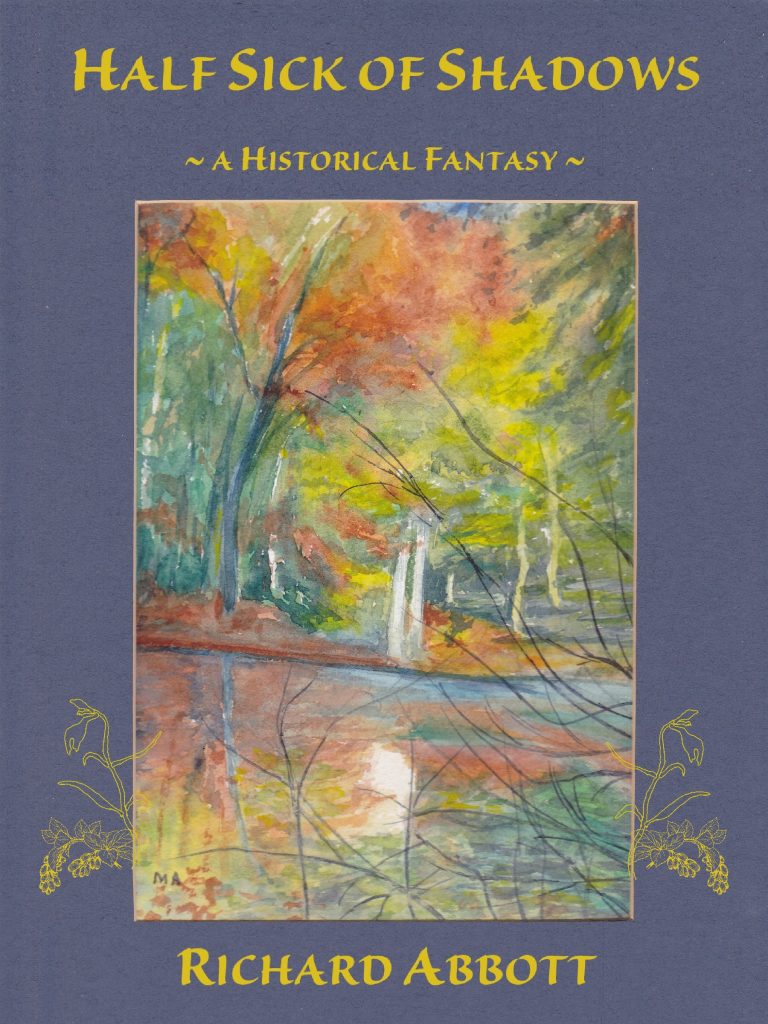 I thought for today that I would put together several snippets from Half Sick of Shadows, together with a good draft of the planned cover. Both picture and writing may change a little over the next couple of months, but they're pretty close now to final version. All being well, I am hoping to release the book around or just after Easter this year.
Half Sick of Shadows is a fantasy, of novella length rather than full-length novel, and owes a great deal to Tennyson's poem, The Lady of Shalott, which itself is based on 13th century material concerning Elaine of Astolat. However, I have taken the plot in what I suspect is an entirely different direction than the earlier authors had in mind.
======================
First extract – from quite near the beginning
From that point on the lady sang each day, whether the people were in view or not. It made her self-conscious at first, and she felt riddled with doubt about the quality of her voice. But then she reasoned that since neither could hear the other, it could hardly matter. The main thing was to join herself in spirit with them. One day in the future, when she finally met them and learned how they spoke, she would concern herself with matching their tone.
…
But all unknown to her, her voice slipped out from behind her walls, and spilled like a faint echo of the river's song across the eyot and over to the further shore. Passers-by listened to the leaping sounds, and whispered to each other of places where another world came close.
"It is a goddess of the running waters," said some, "a queen in exile," said others, and a few just sighed, aching in their heart for the loss of a place they had never known.
She did not hear that, but she saw how people came out from the village to look at her walls, or kneel with arms outstretched and faces turned up to the sky. A cairn of pebbles started to grow where the bank came closest, and when it was waist-high they left gifts there, little offerings out of their meagre possessions.
Second extract – further on
Unquenchable hunger seized her again. She tried not to eat, but it was stronger than gravity, irresistible as wind, and she could not deny it. Great helpless tears rolled down her face even as she tore at great strips of leaf and swallowed brimming bowls of sap.
Heavy, and feeling full to bursting, she wallowed on her couch, desperate for nightfall to come. Would she have even one more day before the unstoppable urge to sleep overwhelmed her?
They came that evening, and held up the infant again so she could see it. She sang again for them, and her song was full of both the beauty and the sorrow of the passing world. She watched the glow of wonder on their faces as they heard her. She knew what they could not, that this would be the last time she would see them, and she sang to bless them as the shortening day eased into night.
Long after they had gone, she lay looking at the riverbank where they had stood. The world was made up of shadows now. When her brother and sister next came, when they held up the infant for her to see, she would no longer be there. She would be lost in her own world of slumber and transformation, and the quick years of the world would roll unseen around her.
How long would they continue to come, she wondered, once the sound of her singing was gone? Would they think that she was lost to them, lost somewhere in the shadows? She watched herself stuffing food into her body, slithering awkwardly, heavily, into her chamber, and she felt that her heart was breaking.
Third extract – towards the end
The lady saw, and passed softly among the raucous din to stand near him.
"You know it too, don't you? You know that you should be with her. Not this king, for all the food that fills his larder."
He shivered and looked around. The man beside him asked a question, but he shook his head, puzzled, took a pinch of salt and tossed it over his shoulder. The lady withdrew, and his anxiety retreated again
.…
The king gestured to the minstrel and sat again. The room hushed in anticipation.
His singing was beautiful, she realised. The assistant kept the rhythm steady and flowing on the longer strings, as the master sang out the tale, plucking out higher riffs and ornaments here and there. She watched with admiration as his lay unfolded, not knowing the words but appreciating the patterns. And her own voice lifted up and joined him, even though her body lay on the couch within her chamber.
The lady moved among the guests, less than a shadow among them, step by step up to the musicians. She stood in front of them, basking in the melody. The singer's words never faltered, but his gaze followed her as she came up to him. She had no idea what he saw of her – perhaps some extra brightness against the firelight, or a flicker of movement like a hidden bird within a thicket – but something in him knew that she was there.
The people heard his song, though not hers, and they were wild with delight as he finished, stilling the strings with the flat of his hand. The king took a ring from his own hands to give to the minstrel, but he shook his head. Instead, he stood and bowed very low before the lady. The room was silent now, waiting to see what happened. She wanted to lift him up: this adulation was altogether too much. But she knew that the desire was fruitless, and that she could not touch him.
The king spoke, a note of puzzlement in his voice, and the minstrel stood upright again. His answer was quiet, respectful, and he gestured to where the lady stood. The king, eyes narrowed, glanced here and there, but could not see her. She looked beyond him to the queen, and her face was alive with interest. She was aware, and so was the king's right-hand man, who had moved across behind the queen to protect her.
There was a growing noise in the room, a buzz of speculation, and suddenly the focused attention became too much. The lady fled the room in haste, pulled herself from the couch and its loom, and pattered to and fro in the courtyard, slowly being soothed by the sights and scents of her garden.
Finally, she curled up on a bench in the pale sunshine. She could only face a few people at a time, she realised.
======================
Not too long to wait now…