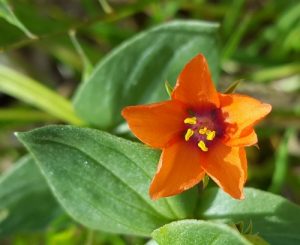 I have just come back from a short time away in and around Lindisfarne, in the north-east of England not far from the Scottish border. Its other name is Holy Island, reflecting the fact that for a great many years – from its foundation as a monastery around 634 to the 16th century – it was best known as a centre for prayer, worship, and learning.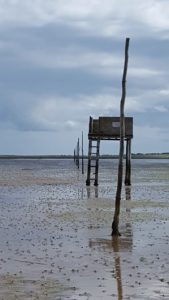 Lindisfarne is one of those places which is an island at high tide, and connected to the rest of Northumberland by vast mud flats at low tide. Twice a day the sea comes in and gathers the island into itself, and twice a day the sea withdraws again and allows traffic to pass freely. It's a most magnificent symbol of the way the human psyche engages with and separates from the world. We have times of busyness, and times of withdrawal. Even if it's only in sleep, all of us have this tidal cycle running deep in us, and it goes far beyond rest and recuperation.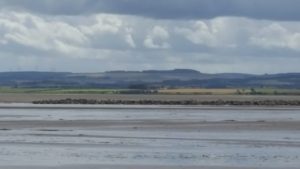 This part of Northumberland also has a huge variety of wildlife – flowers, birds, and insects are everywhere. The birds are at their most striking during the spring and autumn migrations, but there are plenty around in the summer as well. And the Lindisfarne seals sing! Perhaps seals in other places do this too, but I have never heard them. But on a rising tide, as the mudbanks where they are hauled out in their hundreds gradually shrink, you can often hear their song, somewhere between a wolf pack howling and the wind sighing, and not quite like either. There's plenty of wind on the island as well, but when you hear that song, you have no doubt you are listening to something that a living creature has produced.
No wonder that the founding monks of the Lindisfarne community – Aidan, Cuthbert and all – chose this place to build something which joins both this world and the other. We know comparatively little about occupation of the site before their time, but I'd be confident that it was recognised as a liminal place long before the arrival of Christianity here.
Augustine of Hippo, speaking out of his own religious heritage, wrote that "our souls are restless, until they find their rest in Thee", and you'd be hard-pressed to find a better place to find both restlessness and rest than here.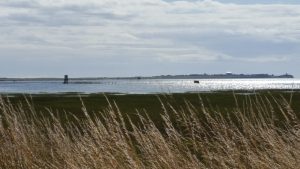 Times have changed a little – the monasteries have been disbanded, the habitual practice of Christianity has changed in many ways, and the island is now connected to the mainland in more sophisticated ways than a footpath. But when you're on the island, the feeling of being away from the mainland presses closely around you. Spirituality remains a major influence on the life of the island, and people still visit for the purpose of feeding their souls. And the cycle of tides still separates this little place from the mainland twice a day.