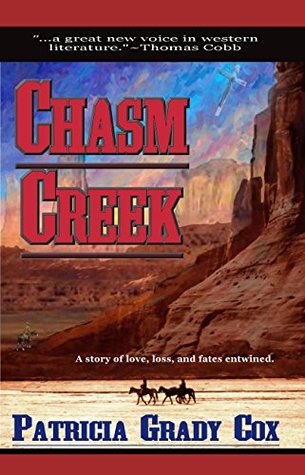 Today is another author interview day, this time with Trish Cox. I read her book Chasm Creek earlier this year and thoroughly enjoyed it. Chasm Creek is a western – a genre I have hardly ever read since school days long ago. Most of my acquaintance with westerns comes from old television series like The Virginian and The High Chapparal, with a smattering of more recent films.
Trish has also published a collection of short stories and flash fiction, and her writing career extends well beyond that into magazine and newspaper articles, guide books, and memoirs.
As a bonus "stop press" note for this interview, Trish just told me:
On September 25, the New Mexico Book Coop announced finalists in many fiction and nonfiction categories for the 2015 New Mexico-Arizona Book Awards. Chasm Creek by Patricia Grady Cox is nominated in the Historical Fiction category. Winners will be announced at an awards banquet to be held on November 20 in Albuquerque NM.
---
Congratulations! Now on with the interview…
Q. Trish, the western is a genre not much practiced here in the UK, though I guess it is more popular in the States. What drew you to write in this genre, and specifically to write Chasm Creek?
A. Hi Richard. It's an honor to be interviewed for your blog; thank you! I can't say that I chose to write this story. It was more that the story grew within me and had to be told and Arizona was where it happened. When I first moved here 25 years ago, I lived in a little town north of Phoenix. I visited the local historical society's museum and discovered the town was established in territorial days and originally was a gold mining camp. That led to reading about gold mining in Arizona. Then, in my travels around my new home state, I visited Monument Valley on the Navajo reservation. It was here I first heard of The Long Walk. It's a shameful part of our history that is not widely known: in 1863 thousands of Navajo were rounded up, after being starved and slaughtered into submission, and marched over 300 miles to Fort Sumner in New Mexico where they were held captive for five years. Thousands perished on the Walk, and more at the Bosque Redondo. I wanted to work that into my story.
Q. I was very struck by your frequent and very evocative descriptions of the natural beauty of Arizona. It's a part of the world I don't know at all. Do you think that the magnificence of the surroundings is an important feature of the western in general?
A. Thank you, Richard. I can't tell you how happy it makes me that the setting has resonated with so many people. I believe what is coming through is my absolute love of this geographical area. I moved here because I wanted to live in this setting. In 25 years I have not tired of it. I like stories in which the setting becomes a character, something that is almost required if you're writing about the historical American west. I tried, in Chasm Creek, to paint a picture of the harshness and isolation of life then as well as the beauty. It gives the characters one more obstacle to deal with.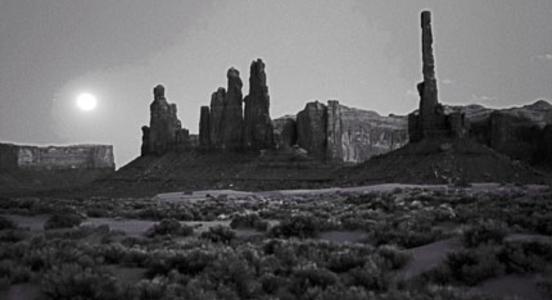 Q. You have lived in both Arizona and on the US Eastern seaboard, as indeed have some of your characters in Chasm Creek. Tell us something about the differences between them, and how this affects your writing.

A. I think my personal experience leaks into the story a couple of times through Esther. She is the one who considers moving back east at one point, but realizes she would be smothered by the closeness, the buildings, everything paved and cultivated, trees that block the view, the sky. Those who know me commented they saw me coming through in that section, and they were correct. Rhode Island is a beautiful state. It's green, filled with forests and many small farms, the ocean is not far from any point (it is a tiny state). The coastline is beautiful and ferries abound to take you to various islands off the coast. I loved the ocean. But the time came to say goodbye and head west! No ocean here. Hardly any water. Everything is sharp, ragged, poisonous. But you can hike to the top of a hill, even in the middle of the city, and see for miles. You can drive along the highway and look out on either side of the road and see mountains and buttes and mesas and cactus, maybe a stray cow or a wild burro. There is no closeness (at least once you leave the city which you can do in less than an hour). I never knew that clouds cast shadows on the ground. I never knew that you could see a storm approach, experience the line between no rain and a downpour as it passes over you.
How does this affect my writing? It probably imbues everything I write. My second novel and my third (work in progress) all contain elements of this conflict between safety, closeness, civilization – whether back east or just within a city in the territory – and the wide open spaces which, to me, symbolize freedom, adventure, and opportunity, much as it did during the western expansion in our country. For me it's on a spiritual and emotional level as well as geographic. I did not write novels until I came here.
Q. In the older westerns, American Indian groups tended to be presented as simple stereotypes. You depict them as far more nuanced and diverse. Can you say something about American Indian groups living in Arizona at that time?
A. It's unbelievable the way American Indians were portrayed in the past. Actors speaking gibberish or stilted English, casting white actors, no regard for tribal cultural differences. I can't claim to be an expert in Native American culture. I studied what I needed to study to make my characters historically accurate. I learned that the Apache and Navajo tribes, with common distant ancestors and very similar language, considered each other enemies. I learned there were many subdivisions within tribes – among the Apache were Tonto, Mescalero, Chiracahua, Jicarilla, just to name a few. They were not one big unified group. There is so much to know, and I'm just glad that writers and move-makers are becoming aware of this and showing more respect.
So to answer your question, there were many different Native Americans living here when European settlement spread west in the mid-1800s. Some were pueblo Indians, some agrarian, others hunter/gatherers, and so on. There was no homogenous "Indian" in Arizona. The ones that tried to fight the Europeans suffered the consequences. Others were more peaceful. I tried to stick with just the two groups – Navajo in order to incorporate the Long Walk into my story as it affects two characters, and the Tonto Apache because they lived in the area of the fictional Chasm Creek. According to the InterTribal Council of Arizona, http://itcaonline.com/ there are 21 tribal nations currently living in Arizona.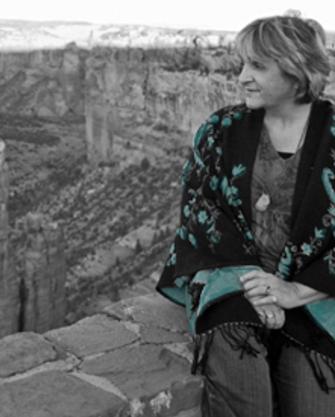 Q. How did you carry out research for this book, and more generally about the era? Is it easy to uncover documentation about the life and times of people there?
A. It is fairly easy to do research on that time period in Arizona. There was a huge military presence and they kept excellent records. Martha Summerhayes is one famous journal-keeper who recorded her travels around the territory with her Army officer husband. Phoenix, Prescott, Tombstone, and other big towns were publishing newspapers regularly. Almost every town has a historical society and some kind of museum, although not all go back to my favorite territorial period. My preferred way to do research is to travel to the actual locations. I drove the 300 miles from the Navajo reservation to the Bosque Redondo, where the Navajos built a memorial and museum. I walked the grounds of what was once Fort Sumner, looked at the slimy, slow-moving creek that is called the Pecos River and thought about 10,000 people having to use that as their sole source of water. I'm sure the river looked different back then, but I could get an idea. I also had to picture the area devoid of trees because the prisoners quickly cut down all the trees for firewood and shelter; now there are trees along the banks. I was able to visit every setting that was used in the novel, take notes and photographs, then research what it would have been like 130 years ago (much different). Oh, and I read a lot.
Q. Your website (http://www.patriciagradycox.com/) mentions that for a few years you volunteered at the Pioneer Arizona Living History Museum, portraying an 1800s ranch wife (several other interviewees this year have taken part in re-enactments, so this is clearly an appealing activity for authors!). Tell us a little about your experiences doing this.
A. There are many groups that do reenactments, and many of them pride themselves on their authenticity and their knowledge of the period. Working at the museum was similar except one was assigned to a particular building, and you took care of it (swept, dusted, tended the fire, hauled water). The novel I'm working on now is on three levels that incorporates modern time, the living history museum, and 1879 Arizona. My characters are shocked at the difference between what they thought was an authentic representation and the reality of life then. Some of my blogs address this issue. It was not romantic or easy or fun (unless, of course, one was wealthy—same as today).
Q. Your web site indicates that you have another novel in progress, Hellgate. Can you tell us a little about that, and when we might be able to enjoy it?
A. Hellgate is finished and has been with an agent for a year and a half. It's a problem because it's a western historical novel with two female protagonists. One is a young woman who has been kidnapped and is being held captive in an outlaw lair run by an Irish madman. The other is her aunt who lives in the territorial capital, a lady with servants and a Victorian home, but she has her own problems (addictions). I am considering whether to give traditional publishing any more time or to self-publish it.
Q. Is there anything else you would like to tell readers today?
A. I would like ask that people look at my blog posts, and let me know if they like them. Also, I have a page on Facebook which can be "liked". And there is one blog post from a while ago that your readership might especially enjoy since it's about an American West reenactment group – in England. The blog is entitled "The British are Coming!" https://pcoxwriter.wordpress.com/2014/07/19/the-british-are-coming/.
Many thanks Trish for participating in the interview today! Chasm Creek comes warmly recommended by me (see The Review Group or Goodreads) and I look forward to Hellgate as and when it gets published.
Thank you Richard, for the wonderful review and for inviting me onto your webpage. I enjoyed the questions very much!
Social media links:
Web site http://www.patriciagradycox.com/
Blog: https://pcoxwriter.wordpress.com/
Facebook: https://www.facebook.com/PGradyCox
Google+: https://plus.google.com/110662590572674818186/posts
Twitter: https://twitter.com/ChasmCreek
Amazon Author page: http://www.amazon.com/Patricia-Grady-Cox/e/B00O28FFLU/
Amazon/Goodreads links for Chasm Creek:
Amazon page: http://www.amazon.com/Chasm-Creek-Patricia-Grady-Cox/dp/1606530852/
Goodreads: https://www.goodreads.com/book/show/23208383-chasm-creek