Well, all three of these have been quite prominent this week. Senet is an ancient Egyptian board game, considered by many people to be an ancestor of backgammon. Available evidence is for the most part from tomb drawings and artefacts, with a small amount of textual material as well. It is not clear how far through the various levels of ancient Egyptian society enthusiasm for the game went – the tomb evidence by its very nature preferentially informs us about elite activities and interests, and we simply do not have information either way about other strata of the culture. Senet was used, apparently, not just directly as a game, but also as a religious or spiritual symbol of the passage through this life and the next. You could liken this very loosely to today's playing cards, which similarly straddle the long gulf between between gaming and divination in different people's hands.
Scenes from a Life makes use of Senet quite extensively, and I have assumed that it was played very widely by all kinds of people. Sometimes in the book it is just a game, but much more frequently it features on a metaphorical level. So the journeys that take place through the book might be interpreted by the characters as like movements in the game, with all of the anticipation and anxiety that this brings about. Or there might be an analogy drawn between someone's behaviour and a game play strategy. If, as I suspect might have been the case, Senet was something of a national game back in New Kingdom Egypt then this is inevitable. Think how sports fans tend to lace their conversation and world-view with ideas and set-piece moves drawn from their favourite sport, whether football, chess, baseball, table-tennis or whatever.

So that brings us through to mobile apps. Some long-term followers of this blog will know that I have a Senet game available on the various app stores (pick your favourite store and search for DataScenes Development, or just directly for Senet). But over the last few weeks I have been working on a new version. Alongside the paid-for version there will be a free (well, advert-supported) one which has a number of geeky techie advantages.
By using a different underlying technology I am able to release it for a lot of phones and tablets of quite modest specification (lots more than was constrained by the previous tech choice).
I have integrated the app with the web so there is a sort-of leaderboard feature for those who fancy themselves as modern-day Senet champs.
I have taken the opportunity to rework a lot of code that had got more and more like tangled spaghetti. Anyone in the IT trade will recognise this as refactoring, and with my QA hat on I am completely aware just how many bugs get introduced by enthusiastic developers doing just this… but my code will be different…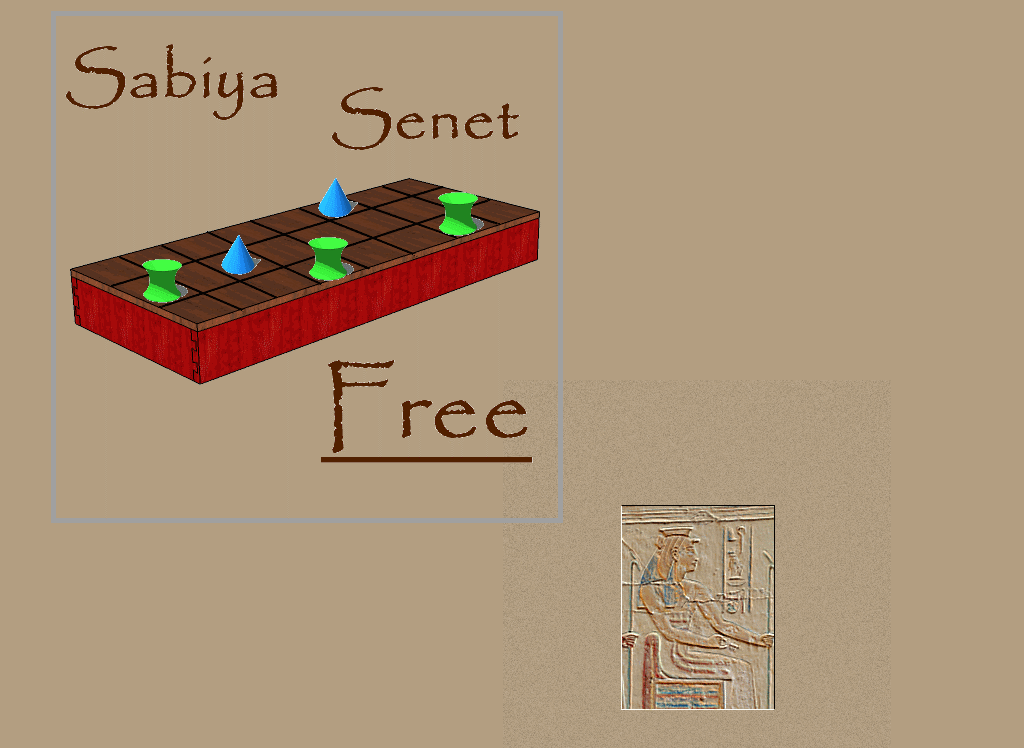 But I have also been finding some of the down-sides with the new development tool (it's the Corona SDK for the true IT geeks). This is based on a graphics engine called OpenGL – which is magnificent for things like displaying images and moving them round the screen, but really quite poor at laying out simple text in – say – some help pages. Ironically I think I have spent longer getting the in-app help to work properly than the mechanics of the game itself.
Now, the characters of Scenes from a Life did not have smart-phones with them on their journeys. But they did enjoy the game of Senet – and you can enjoy it along with them! Realistically Senet the free game will be released quite some time before Scenes from a Life hits the bookshelves, so it can act as a sort of preview…